Maintaining sewer systems can be precarious work. Because of the punishing conditions sewers are exposed to daily, a variety of issues can arise—many of which are out of the control of those working to maintain them. But being able to identify the problem, and find and provide a solution is crucial to maintaining any wastewater system. Sometimes, however, those challenges are a bit more unique and require sewer professionals to think further outside the box.
So we asked some of our customers, what challenge did you encounter on the job and how did you help save the day?
---
Allens Plumbing is a residential and commercial plumbing service contractor in Hawaii. When the company first entered the market, it saw a client base that went completely unserved. These clients—mostly private commercial entities with high-rise buildings such as hotels and residential condominium complexes, as well as shopping centers—were spread out over islands surrounding Oahu and Maui.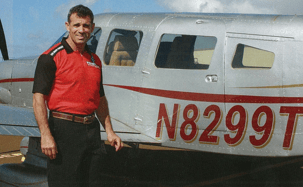 Most of them had 8"-12" lines with inspection and rehabilitation needs that couldn't be addressed properly with a push camera—leading Allens to look for a sewer inspection crawler instead. Though unlike most contractors who can drive between jobs, the crew at Allens often has to fly from island to island. So when the company was seeking its first crawler, there was one key feature needed: mobility.
"It took me 4 years to purchase a sewer inspection crawler suited to our unique needs," says Allen. "I can't dedicate a vehicle to the crawler because it would be impossible to hop islands. I needed a system that gives me the flexibility to put it on a plane or in a car—without losing on productivity. The Envirosight ROVVER X system was perfect for us—it is compact enough to put on a plane and robust enough to service our biggest commercial clients."
Finding a solution with the ROVVER X, Allens Plumbing was able to provide thorough sewer maintenance in areas that had long been neglected.
---
Last summer, the crew at Green Bay Pipe & TV in Wisconsin was called to a job at a local mega farm where a new manure line was being installed into a swamp. It was directionally bored and they had a leak, says company owner Steve De Keyser.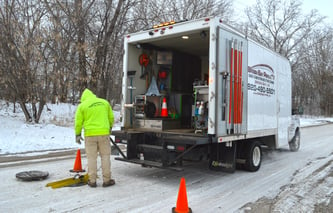 "They were able to dig down to the pipe about 100 feet from the swamp and cut out a section of it to gain access," he says. "They wanted to know exactly where that leak was, but in HDPE when they fuse fittings and joints together, it leaves huge butt joints and it was a 10-inch pipe. We had to navigate past several wye connections and through a valve to reach the damaged area."
The team at Green Bay went in with the ROVVER X inspection crawler in search of the leak.
"We were able to steer around all of that stuff in there and find it," De Keyser says. "It was a challenge just because of the conditions we were in, but we found it, got a liner in there and got it sealed, thanks to the equipment."
---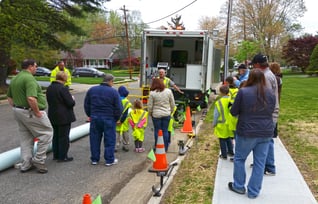 Now this is something you don't see everyday. Western Monmouth Utilities Authority in Manalapan, NJ received an emergency call seven years ago after a person fell roughly 30 feet down inside a pipe at a local treatment facility.
"There were all sorts of emergency responders there and they couldn't see what they needed to in order to get to the guy," says Ed Kovacs, collection maintenance manager. "We took our inspection truck out there and used the (Verisight Pro+) push camera so the firemen could better understand what the situation was like down there. Luckily, there was no water in the pipe and he was rescued successfully, but it ended up in the newspaper—it was a really big deal."
---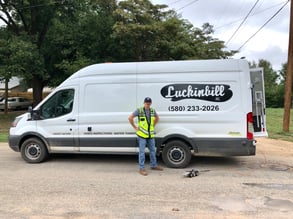 A surgical center in Oklahoma was experiencing drainage issues and called in Luckinbill Inc. to help identify the problem. When Carl Fielder, video inspection coordinator, visited the clinic to inspect the center's drain system, he and his teams were asked to wear paper coats, booties and goggles, and cover their heads and facial hair. Their ROVVER X inspection crawler even received a deep clean and was covered in plastic wrap.
Luckinbill had not been the center's first call; a local plumber had already used and broken a snake in the problem pipe. But Fielder, his expert team and their nimble ROVVER X were up to the job. Soon enough they found the snake; upon going further down the line they located the source of all their problems: a broken pipe. To everyone's relief, the break was outside the building and could be repaired without further disruption to the surgical floor.
---
When it came to tackling a 2,700-foot stretch of 10-inch cast iron pipe directly under Lake Stevens in Seattle, the crew at Lake Stevens Sewer District worried no crawler would survive the journey, let alone provide the quality of footage needed to complete detailed analysis.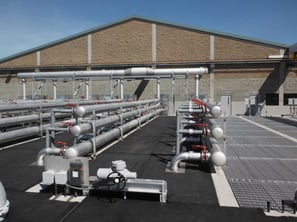 However, with the help of some creative problem solving and the ROVVER X's compact design and durability, his team was able to conquer this section of pipeline.
"There were bends in the sewer mains without access points, making this bit particularly challenging," says Jonathan Dix, the District's manager of maintenance collections. "We managed to pull the camera through the line with a rope. The ability to disengage the clutch was also especially helpful, since it meant we were able to get the footage we needed. We worried about the ROVVER X, but the crawler's compactness and mobility made the entire thing go flawlessly."
---
Keeping wastewater systems performing optimally is no small task, and it usually requires the hands of many. But with dedicated professionals, a problem-solving mindset and the right equipment, there's no obstacle too big to overcome. Read more stories of our customers and their experiences in the industry: