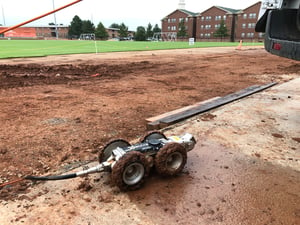 Sewer drainage issues are the last thing you want in a surgical center. Doctors—and those in their care—like to keep things clean. In fact, when Carl Fielder, the video inspection coordinator for Luckinbill, Inc., paid a visit to the clinic to inspect the center's drain system, he and his teams were asked to wear paper coats, booties and goggles, and cover their heads and facial hair. Their ROVVER X inspection crawler received a deep clean and was covered in plastic wrap.
Luckinbill had not been the center's first call; a local plumber had already used and broken a snake in the problem pipe. But Fielder, his expert team and their nimble ROVVER X were up to the job. Soon enough they found the snake; upon going further down the line they located the source of all their problems: a broken pipe. To everyone's relief, the break was outside the building and could be repaired without further disruption to the surgical floor.
One Company, Many Solutions
This kind of project is all in a day's work for the team at Luckinbill, Inc. Established in 1939, the company provides a variety of services, including commercial HVAC and plumbing, electrical and mechanical contracting, utility, fire protection and suppression installation and inspection, industrial coatings, and building control systems to Oklahoma and surrounding states. Their motto is "One company, many solutions," and the versatility of the firm's services depends heavily on the cooperation and adaptability of its team. When describing the 150+ employees at Luckinbill, Fielder notes that "The guys here, we're all cross-trained. And even Dennis, the company owner whose father founded it nearly 80 years ago, will go out in a hard hat and a yellow vest." The Luckinbill family—which has more than one member acting and producing in Hollywood—sets the tone at the company, and they go out of their way to support their employees and their community during tough times. By combining a loyal, skilled team with best-in-industry technological resources, the company has built a solid reputation across the region.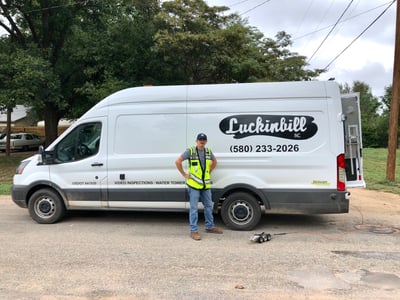 Serving a wide audience has allowed Luckinbill to prosper. In addition to helping in larger towns and cities, the company has been successful in providing limited quantity services to Oklahoma's many small towns and communities. "We're here for the small communities too," explains Fielder. "Big cities have funds and resources. Some of these little towns have only two people on staff—the city manager is also the local police officer, who's also reading water meters. They don't get the opportunity to have these things done. We set up payment plans and search for other ways to make inspection services available to them."
Expecting the Unexpected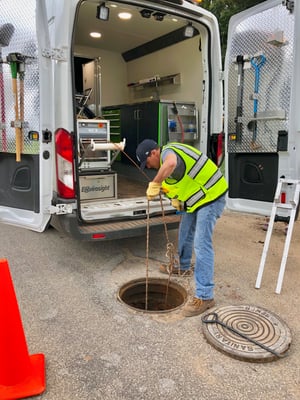 Five years ago, Luckinbill's sewer inspection team tackled occasional jobs here and there, but CCTV represented only a small portion of their business. One day, after a sudden staffing shift on the ROVVER X crew, the boss called in Fielder, who had experience working with sewer lines and was known to be tech-savvy. He's since become the resident expert in CCTV and has greatly expanded its offerings. Today, the company runs two camera systems full time, and he's friendly with Envirosight's service team as well as the experts at Key Equipment, Envirosight's sales partner for the region. But mainly, he credits his success to the system itself. "I've seen other systems out there, and they're just not user-friendly. It's great to take the ROVVER to an area where they're running something else. They see us pop on the ROVVER X's wheels, lower it down easily, and they just stand there in amazement." And while he liked the VC200, the VC500 has changed everything. "It's really user-friendly."
Fielder and his team work a lot of straight contract jobs, and they often coordinate with the Luckinbill jetter team to ensure pipes are clean. The company is a one-stop shop, and they travel regularly across Oklahoma, from the far southeastern corner to the tip of the panhandle. Not all their work is run-of-the-mill sewer camera work though, and Fielder has also launched the system in less typical environments. One trip brought the crew to a grain silo, where the owners needed assistance finding a crack in the wall of a holding area. On another occasion, Luckinbill's pros found themselves TVing from inside a mall, in the middle of the holiday rush. In a panhandle town they popped a sewer open only to discover that the flow was cotton candy pink and smelled terrible. "A worker called in the fire department, and they came out in full gear," Fielder recalls. "They did some air testing … and soon we were quarantined in a back room at the fire department. They had us strip down, shower and change clothes. They were worried we'd been contaminated with meth residue, but finally they realized a hardware store had been dumping old paint and lacquers. You haven't lived 'til you've been quarantined for three hours because of a sewer camera."
It's not all contamination and off-roading though; the work can be unexpectedly rewarding. In one small town, the Luckinbill team was able to serve a grieving community by inspecting a storm drain where a firefighter, returning from rescuing flood victims, had lost his life. Providing some closure to the family, city officials, and his firefighter brothers was challenging but fulfilling work; Fielder gave his crew the rest of the day off when they wrapped up.
Service Above All
Time and again, Luckinbill rises to the occasion. Whether they're helping a small town with limited resources ensure its residents have safe wastewater systems or providing CCTV in an unlikely environment, Fielder and the rest of the crew provide the best possible service. Their ability to adapt to unique circumstances, and their passion for the communities they serve, have ensured that they'll continue to expand their reach in Oklahoma and beyond.
Request a free on-site demo of the ROVVER X today:
Photos provided by Carl Fielder.