Western Monmouth Utilities Authority in Manalapan, NJ has been running their CCTV truck for nearly 10 years, but it still looks and feels brand new, they say.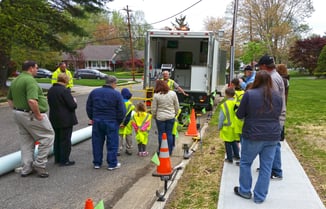 "It's been really well cared for and it's just very durable inspection equipment," says Ed Kovacs, collection maintenance manager and a 21-year veteran of the Authority. "It's used frequently, yet has remained in great shape and made our job a lot easier over the years."
A Growing Need
Today the Authority, which originally formed in 1972, manages over 250 miles of sewer pipe and 31 pump stations, as well as its Pine Brook Sewage Treatment Plant.
"The community we serve has grown rapidly," Kovacs says. "It used to be a lot of farmland, but now it's a lot of homes and condos and really developed communities. We've got a pretty big job because of it."
WMUA employs 14 outside and inside maintenance crew who have a range of responsibilities, with jetting and CCTV inspections at the top of the list.
"The constant growth has impacted the sewer system a lot," says Kovacs. "Because of it we have both brand new lines and really old lines to maintain. The cleaning and inspection equipment we have invested in is how we're able to do what we do."
Enhanced Equipment
Roughly 10 years ago the Authority purchased a Ford box truck built out with the Envirosight Supervision CCTV crawler and WinCan inspection software.
"Before that we ran a crawler that had to be reeled back in by hand," Kovacs says with a laugh. "So this was a big upgrade for us and it was our first dedicated CCTV truck. We were all excited about getting it because we knew it would make things a lot easier and quicker for us."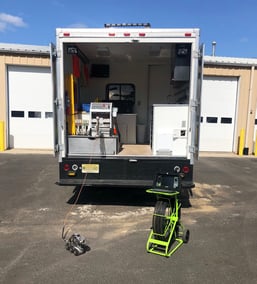 The team also owns Envirosight's Verisight Pro+ push camera and Quickview airHD zoom assessment camera.
"Both of these have served us well when the crawler isn't needed," Kovacs says. "When we have tight situations where we don't want to make an entry, the Quickview pole camera helps out 100%. And the push camera is a really reliable tool that we use to inspect cleanouts from the homeowners' property to confirm whether the responsibility lies with us or them when an issue arises."
The Verisight Pro+ even served as a bit of a local hero at one point, Kovacs recalls.
"We got an emergency call seven years ago because a guy fell roughly 30 feet down inside of a pipe at a local treatment facility," Kovacs says. "There were all sorts of emergency responders there and they couldn't see what they needed to in order to get to the guy. We took the inspection truck out there and used the push camera so the firemen could better understand what the situation was like down there. Luckily, there was no water in the pipe and he was rescued successfully, but it ended up in the newspaper—it was a really big deal."
What's Next?
While the Authority's inspection equipment still runs smoothly, they're currently gearing up to upgrade their crawler and software in order to get the most out of new and updated features.
"Seeing how the equipment has kept up, it's a no-brainer for us to stick with Envirosight," Kovacs says. "And being right here in the backyard of Envirosight's headquarters, the local service and support when needed is great.
"The equipment is used as often as we can and it's been really good to us—it's quality stuff," he says. "We're also able to help local townships inspect their storm drains when they have issues—looking for cracked or broken pipes. So it not only benefits us, but the entire community, too."
---
To learn more about Envirosight's versatile ROVVER X sewer inspection crawler, schedule a free on-site demo today: