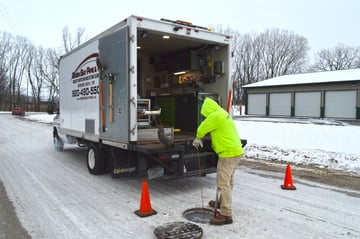 Family-owned and -operated wastewater contracting company Green Bay Pipe & TV has grown consistently over the past 15 years. And owners Steve and Stephanie De Keyser hope to continue building on its success before passing it on to the next generation.
"We've stayed busy since we took ownership of the company in 2005 and want to continue trending this way," says Steve De Keyser. "But we are starting to get to the age where we're looking to hand the reins over to the future here, so we are bringing our son-in-law Tyler into the fold."
Keys to Success
Steve and Stephanie De Keyser have worked side by side to turn the company into what it is today by following three practices, they say: maintaining a valuable team of people, investing in equipment that will serve them long-term and produce high-quality work, and demonstrating integrity with every job.
"These three things have helped us stand out from the rest," Steve De Keyser says. "Number one being our employees—they are our biggest asset. We have several people here who have been here longer than us. They know their job and they know how to do it right."
Quality Products, Quality Deliverables
Producing topnotch work has always been a goal for the company, De Keyser says, which involves having the right equipment to do so.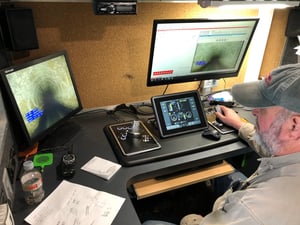 "When our previous CCTV system was reaching the end of its lifetime, we started looking around at different systems," he says. "Financially it came down to two, but when we looked at what we were getting—the value—Envirosight blew the other out of the water with the advanced technology and all of the other features it offered."
The team now has two inspection trucks with Envirosight's ROVVER X sewer inspection crawlers built in, as well as the Verisight Pro+ push camera.
"One truck is strictly a mainline inspection vehicle with the ROVVER X and all of the accessories for it, including the elevator and carriage for different pipe sizes we inspect—sanitary, storm, small-diameter and large-diameter," De Keyser says. "The other truck has a ROVVER X for mainline inspections and the ROVVER X SAT lateral launch system for lateral inspections."
The boost in productivity and capability when the team at Green Bay Pipe started using the ROVVER X was immediate, De Keyser says.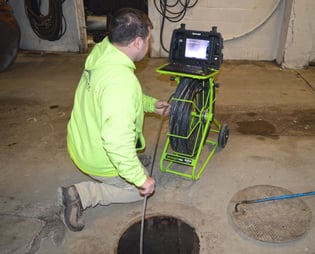 "Beyond increasing productivity in small-diameter pipe inspections, we were able to do so much more just because of the way the camera operates," he says. "With our previous system there were a lot of lines we couldn't get through because of the obstructions, whereas the ROVVER X steers right around them."
And having local service and support from Envirosight's sales partner in the area, MacQueen Equipment Company, has been a huge benefit, De Keyser says.
"Our experience with the team there has been great," he says. "They've bent over backwards when we've needed them to work through a challenge and have been really involved."
Delivering on Every Job
A valuable team producing valuable work with the right equipment has made it easy for Green Bay Pipe to build a reputation, De Keyser says.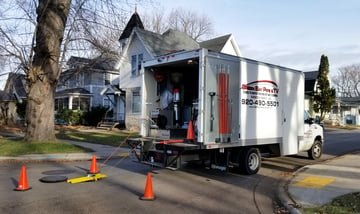 "We do what we say we're going to do and we show up when we say we're going to show up," De Keyser says. "We really don't have to advertise much anymore—people know what we bring to the table. And communities talk, so we get jobs where we're working in one community and suddenly another one calls and says, 'Hey we heard you're in the area, could you come over here?' So we wind up picking up a lot of residual work based on the recommendations of the people we're working for."
Up for the Challenge
The team of 12 at Green Bay Pipe serves the whole state of Wisconsin and upper Michigan, focused mainly on cleaning, televising and point repair lining. The majority of the company's customers are municipalities in need of general maintenance, with private clients sprinkled in the mix, but sometimes customer requests are a little more unusual.
"Last summer we were called to a local mega farm where they were putting in a new manure line through a swamp," De Keyser says. "It was directionally bored and they had a leak. They were able to dig down to the pipe about 100 feet from the swamp and cut out a section of it to gain access. They wanted to know exactly where that leak was, but in HDPE when they fuse fittings and joints together, it leaves huge butt joints and it was a 10-inch pipe. We had to navigate past several wye connections and through a valve to reach the damaged area."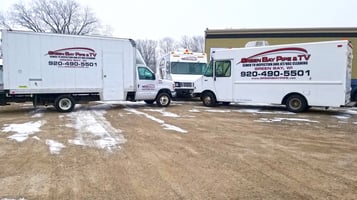 The crew went in with the ROVVER X inspection crawler in search of the leak.
"We were able to steer around all of that stuff in there and find it," De Keyser says. "It was a challenge just because of the conditions we were in, but we found it, got a liner in there and got it sealed, thanks to the equipment."
The team is preparing to tackle a new challenge for its customers later this year.
"In the near future we plan to expand into other areas of sewer maintenance, specifically manhole rehab," De Keyser says. "We've got the cleaning, televising and spot repair covered, so that's the next step for us. We're looking forward to what is still to come at Green Bay Pipe and TV. "
---
To learn more about the versatile ROVVER X sewer inspection crawler, schedule a free on-site demo today: