A plane, a crawler, and a will to succeed in Hawaii.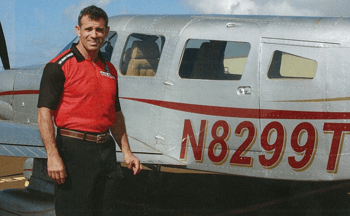 Allens Plumbing is a residential and commercial plumbing service contractor in Hawaii. Founded on Maui in 1982 by Steve Allen, the original one-man operation enjoys steady growth with operations in both Maui and Oahu. Today, the company has over 35 employees and revenues upwards of $6 million.
A second-generation plumber, Steve began working at his family's company in Sylmar, California, before moving to Maui and starting Allens Plumbing: The Drain Surgeons. "It's been great to watch this small company grow," he says. "Having the right equipment and the will to do whatever it takes is what helped us get here." Sentiments like this one brought Allen to the decision to buy a sewer inspection crawler. "It is very odd for a plumbing contractor with little to no municipal work to invest in a sewer inspection crawler," says Steve Allen, when asked about his decision to purchase a system. "In fact, we're the only one in my knowledge."
The majority of Allens Plumbing clients are private commercial entities with high-rise buildings such as hotels and residential condominium complexes, as well as shopping centers. Allen entered the market and saw a client base that went completely unserved. But there was a catch, these clients were spread out over islands surrounding Oahu and Maui. The high-rise buildings and shopping centers have 8"-12" lines with inspection and rehabilitation needs that can't be addressed properly with a push camera. "We need a crawler because we have to be able to show our commercial customers what the situation is underground," says Allen.
Mobility was key for Allens Plumbing. "It took me 4 years to purchase a sewer inspection crawler suited to our unique needs," says Allen. "I can't dedicate a vehicle to the crawler because it would be impossible to hop islands. I needed a system that gives me the flexibility to put it on a plane or in a car—without losing on productivity. Brian Bulchumus of Neverest Equipment was outstanding in helping us find a system. The Envirosight ROVVER system was perfect for us—it is compact enough to put on a plane and robust enough to service our biggest commercial clients." Allen explained.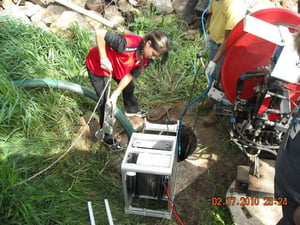 On any given day, you can find Steve Allen's Piper Saratoga six-passenger plane transporting technicians and the ROVVER X system from island to island to serve clients. "Just recently, the County of Maui asked us to inspect a school in Lanai, a small island with a population of just 3000 people. We loaded the plane with our ROVVER X system and our operators and flew there. When we landed, a car was waiting to take us to the school. We were back in Maui within 6 hours, with all the inspection work done," says Allen. Islands with populations like Lanai's are commonly ignored by sewer inspection contractors because it doesn't make financial sense to have dedicated local crawler system.
Standard Equipment, Envirosight's long-time sales partner in Northern Illinois, recently expanded their territory to include Hawaii. "Hawaii has a wide range of infrastructure challenges for which Envirosight's equipment is perfectly suited, we are excited to work with forward-looking organizations such as Allens Plumbing in building a broader presence in Hawaii," says Mark Paduveris, Hawaii-based Environmental Equipment Specialist at Standard Equipment.
"My advice for people that are new to the business is don't be afraid to explore a new opportunity. Just because people are used to doing something a certain way, it doesn't mean it's the only way" says Allen.
Stay updated on customer spotlights by subscribing to Underground Intel. This e-newsletter will keep you in the loop with the latest industry news, white papers, and other valuable information.