Many wastewater operators are fighting an uphill battle. Underground infrastructure across North America is reaching a critical age, and regular inspection and maintenance are essential to ensuring system function. But those require skilled labor and money—which are in short supply in many municipalities.
When infrastructure fails, regulators step in. Wastewater regulations exist to ensure the safety and wellbeing of communities. Pollution, stormwater runoff and unlawful discharges of raw sewage can endanger residents, destroy property and damage the natural environment. And while interventions such as fines, censure and restrictions can be frustrating, they can also help systems get back on track serving their communities. Three Envirosight customers shared how they brought their troubled wastewater systems back into compliance.
---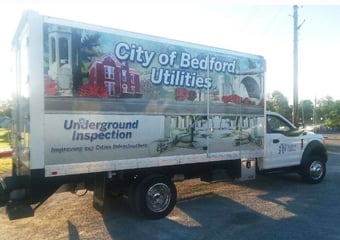 "Sometimes You Wonder How It's Been Working at All."
Roughly 10 years ago, Bedford, Indiana was facing pressure from Indiana's Department of Environmental Management (IDEM). The department threatened a complete ban on the city's ability to add pipes if greater action wasn't taken to address the issues in its system.
And there were a lot of issues: "We got (to Bedford), and the two pipes we went in were so dirty with material that we couldn't even crawl through them," recalls Charles Parsley with BEST Equipment, Envirosight's regional sales partner. Bedford City Utilities director Misty Adams describes lines filled with pests, roots and broken pipe. "[From up here] you can't see any of that, and when you run a camera down through it, sometimes you wonder how it's been working at all." Problems with overflows and inflow and infiltration were ongoing.
To get a good look at the challenges they were facing, Bedford acquired a ROVVER X, and then implemented a monitoring system to report the issues to IDEM. Later, it invested in additional equipment: a QuickView airHD zoom camera, Quick-Lock point repair sleeves, a second ROVVER X inspection crawler and a ROVVER X SAT lateral launch. The team divided the collection system into sections and has gone line by line, documenting defects, building reports, and implementing repairs. "Bedford is a small community," explains Parsley. "It's middle America and everyone has the same problems they do, but they are acting on it and getting the work done."
---
Combining Resources to Meet Standards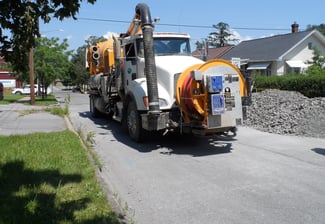 In 2012, Pennsylvania's Department of Environmental Protection (DEP) imposed a Consent Order and Agreement on Montgomery and Muncy boroughs. Their aging infrastructure was plagued by infiltration, and the wastewater plants in both communities were failing.
With expensive decisions on the line, the DEP encouraged both to switch to a regional approach for managing their wastewater systems. The boroughs joined with two other local townships to create the West Branch Regional Authority.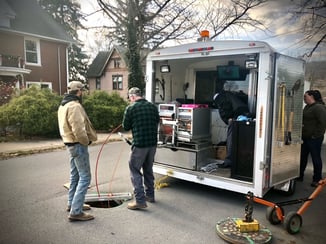 In addition to building a new, shared wastewater plant, the Authority created a preventative maintenance plan, including cleaning and inspecting all of its lines, to get a better understanding of the rehab and repair needs. It purchased a ROVVER X and Verisight Pro+ push camera to support inspection efforts, as well as several vac trucks for jetting and cleaning. Other priorities under the Authority's new preventative maintenance plan included private property inspection, smoke testing, CIPP patch repairs, system-wide SCADA and GIS mapping.
Today, the Authority successfully manages 61 miles of mostly gravity sewer lines, with 12 lift stations and several force mains to move wastewater to the centralized plant. "The region we serve continues to grow each year," says the Authority's deputy executive director, John Lynch.
---
"There Was A Lot That We Just Couldn't Do."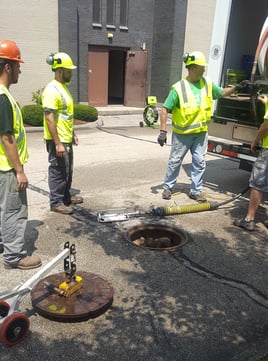 The Uxbridge, Massachusetts Department of Public Works had a mixed relationship with regulators. "Our wastewater treatment plant was always great. We even won an award from the EPA," notes Jim Legg, the Wastewater Operations Supervisor. "The collection system is where we struggled." The problem lay in the department's inability to inspect large parts of its sewer infrastructure. "We were using an old push camera that could only go 70 or 80 feet down a line," says Legg. "There was a lot that we just couldn't do."
In response to the worsening situation, Uxbridge invested in a ROVVER X crawler installed in a portable Outpost transport enclosure. Purchases of a Jetscan video nozzle, a Verisight push camera and a Quickview airHD zoom camera followed.
The new inspection equipment allowed the team to investigate and clean pipes it couldn't come close to in the past: The Outpost traveled down narrow city streets and on easements, and the Jetscan ensured the cleaning crew never had to jet blind, helping them prepare for specific cleaning challenges and document cleaning success. The department moved from being reactive to being proactive. Says Legg, "With the new equipment, what was inaccessible has become accessible."
Interested in learning more about the regulations impacting water and wastewater utilities? This free poster outlines the Clean Water Act, the role of state authorities and more: