The city of Bedford, Indiana—known as the "Limestone Capital of the World"—has a population of fewer than 14,000 people. Though small, it has taken big steps in recent years to gain the upper hand over its sewer and stormwater systems.
But the path to get there hasn't been simple.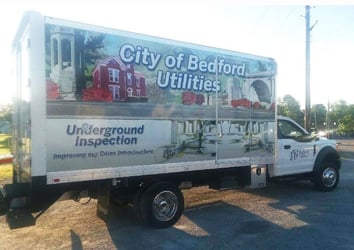 Roughly 10 years ago, Bedford was facing criticism from Indiana's Department of Environmental Management. "We got (to Bedford), and the two pipes we went in were so dirty with material that we couldn't even crawl through them," recalls Charles Parsley with Best Equipment, Envirosight's regional sales partner. The department threatened a complete ban on the city's ability to add pipes if greater action wasn't taken to address the issues in its system.
The city had to find out what was really happening underground. "We said the first thing you need is a truck to clean these things with, and then you need a camera," says Parsley.
Equipment Upgrades
Bedford took his advice and purchased a ROVVER X sewer inspection crawler. But although Bedford City Utilities director Misty Adams had begun using the camera to inspect underground, the community didn't have a monitoring system set up to effectively report the issues to IDEM.
"When we were using the camera, we knew we had some problems, but we never could quantify exactly what the problems were," Adams says. "That's why we set up monitors to find out what problems we had, and some remedies to fix them."
Addressing Issues
Bedford's biggest challenges were addressing overflows and inflow and infiltration, Adams says.
To tackle the issues head on, the department invested in additional equipment, from the QuickView airHD zoom camera to Quick-Lock point repair sleeves. They even purchased a second ROVVER X inspection crawler and a ROVVER X SAT lateral launch.
"We did a design-your-own mobile unit … and we liked that because we could design it exactly how we wanted it," Adams says. "We looked at other [trucks] and then took the best of all of it. We put together what we felt would be the best design for us working out in it every day."
The team at Envirosight's Vehicle Build Center in Evans City, PA helped Adams decide what she was looking for in the 16-foot box truck, which often serves as her office while she's handling all of the city's utilities.
"The heart of the truck is the equipment itself: the cameras and that kind of technology. And the brains of it is Misty," says Bedford Stormwater Coordinator Mike Reynolds. "It's set up like a space shuttle. We even have a restroom in there."
The equipment is an essential part of the utilities' crew operations, and Adams has even nicknamed the cameras she operates on a daily basis.
"Daisy, Nelly and Betsy," she says with a laugh.
Making Progress
Inspection-wise, the crew has divided the 79 miles of pipe they manage into two sections. Each day they pick up where they left off, documenting defects, damage and any other issues.
"We have a lot of roots in our system, so we see a lot of that," she says. "We see a lot of creatures as far as bugs and worms, and a lot of crazy broken pipes. [From up here] you can't see any of that, and when you run a camera down through it, sometimes you wonder how it's been working at all. … Now we know we have a lot of repairs that need to be done."
And the four-person crew tasked with inspecting, jetting and vacuuming the city's pipes does more than just routine maintenance.
"A lot of the times we don't get very far because [the pipe] needs to be cleaned. And then you have emergencies," Adams says. "Somebody calls in and they can't flush, or something like that, so we also do emergency camera inspection as well as our daily maintenance."
Big Accomplishment
Everything they have done to improve the system in a short period of time is no small feat, Parsley acknowledges.
"In these last few years, they have basically been going line by line televising, doing reports, repairs and just getting everything lined out," he says. "Bedford is a small community, yet they bought this box truck with everything. It's middle America and everyone has the same problems they do, but they are acting on it and getting the work done."
Learn more about the ROVVER X: