We've rounded up the best sewer industry resources to help you start the new year off on the right foot. Share your favorites with coworkers and tag us on social media.
Municipal Grants White Paper
Finding funding opportunities is not as out of reach as it may seem. Municipal grants exist to support water and wastewater utilities and are an excellent source of additional funding. Get the basics on grant opportunities and industry-specific advice.
---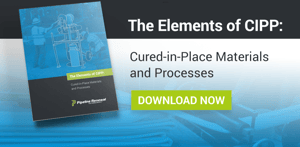 Elements of CIPP
Cured-in-place-pipe (CIPP) sewer rehab has many components and complexities. Our new white paper, The Elements of CIPP: Cured-in-Place Materials and Processes, explains the evolution of the technology and why it is the preferred pipeline rehabilitation method utilized by municipalities across the country.
---
Sanitary Sewer System Poster
Learn the anatomy of a sanitary sewer system with Envirosight's free poster! From the start of residential and commercial pipelines all the way to the treatment plant, wastewater goes on quite a journey.
---
Subsurface Utility Imaging
When tasked with inspecting 300 manholes for one municipality's sewer system, Subsurface Utility Imaging (SUI) chose the CleverScan as their tool of choice. SUI accomplished its job in less than a week. Find out more.
---
Mechanical Point Repair Installation Logbook
Request Pipeline Renewal Technologies' Installation Log for Mechanical Point Repair to keep your rehab installation procedures running smoothly.


---
You Should Ace This!
If you spend your days cleaning, inspecting or rehabbing sewers, this quiz should be easy! Give it your best shot and then challenge a coworker to beat your score.
---
Quick-Lock and JPW
Cape Fear Public Utility Authority (CFPUA) found chipping and tuberculation on some of the pipes that JPW Properties installed in a townhouse community. Learn how Quick-Lock point repair helped fix the situation.
---
A Brief History of Pipe Materials
The majority of U.S. infrastructure is aging, but there have been some changes throughout its history. Learn about the various pipe materials that have been used.
---