Farmers across the U.S. have long relied on agricultural drain tile to keep cropland productive. Without the extensive drainage network that has been built up over the last century and a half, agricultural production just wouldn't be possible at the scale it exists today.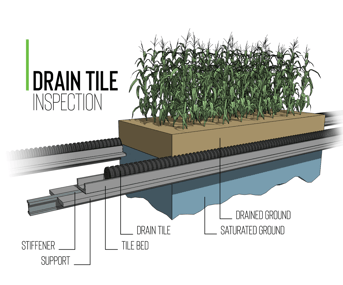 While nearly all U.S. states report having agricultural drain tile in use, the Corn Belt and Great Lakes states have historically relied most heavily on tile; many of these areas were former wetlands sold at a discount by the federal government to farmers willing to drain and use the acreage for agriculture. Today, Iowa, Indiana and Ohio lead the nation in use of drain tile, with 53%, 49% and 49% of cropland tiled, respectively, according to farmdoc daily.
Agricultural drain tile now covers some 56 million U.S. acres in total, according to the most recent Census of Agriculture, siphoning excess water from the soil while creating room for crops to develop deeper and stronger root systems. Studies have shown that drainage tile increases crop yields and decreases crop damage due to oversaturated soil; other reported benefits include faster soil warm-up in the spring, better soil aeration and reduced soil compaction.
How Agricultural Drain Tile Works
Much as the name suggests, drainage tiles are an intricate underground network of pipes that remove excess water from the soil. One of the largest investments for a farmer, tiles are typically spaced 30 to 100 feet apart and are installed at a slight grade, so gravity carries the water through the pipes and out of the fields. The tiles—which were first made of fired clay, then concrete, before plastic pipes were introduced in the 1960s—are typically about four inches in diameter and buried between about three or four feet deep. Wrapped in geotextile fabric and bedded in gravel or crushed stone, they connect to larger pipes—about 6 or 8 inches in diameter—at the edges of fields before releasing water into ditches or nearby waterways. The tile drains soil only to the depth of the tile; it doesn't affect water stored below it.
Managing and Maintaining Agricultural Drain Tile
With proper operation and ongoing inspection and management, agricultural drain tile can last a lifetime and yield highly productive soil. Tile failures that are not corrected, however, can not only negatively impact crop yields but also cause erosion, damage equipment and pose a hazard to equipment operators.
"The right soil, seeds, fertilizer or spray won't help if crops are underwater due to malfunctioning drainage pipe," says Mark Aure, owner and operator of Fargo, North Dakota-based Pipe Detectives.
Common problems include:
Soil structure or soil conditions, often due to soil compaction.
Tiles that are cut or damaged when pipeline or buried utilities are installed.
Blocked tiles due to rodent carcasses, iron ochre, build-up of organic materials or trees planted over or near tiles areas (particularly willows, poplars and soft maples).
Old unconnected tile cut during the installation of new tile.
Collapsed or crushed tile due to high traffic over the tile.
Timely inspections—ideally, conducted in the spring before planting and in the fall after a heavy rainfall—can reveal problems with the tile drainage system. Areas to assess include surface inlets (e.g., catch basins and riser inlets) and tile outlets or outfalls, including removing any accumulated trash or debris and checking for evidence of rodent activity. Field levels should also be monitored for signs of surface erosion, with locations of any wet spots or holes (which could be caused by holes in the tile drainage pipe) marked for further investigation.
In addition to manual, GPS or drone visual inspections, CCTV equipment is a powerful option for farmers who want a system-wide view of new and existing tile systems. The concept of inspecting drain tiles with CCTV sewer inspection cameras is fairly new, with the market just beginning to realize the benefits and availability of the service.
At Pipe Detectives, which uses the ROVVER X crawler to inspect drain tiles, the company finds defects that can adversely affect the performance of the system in at least half of the drain tile system inspections it performs, Aure says.
How Farmers Are Using the ROVVER X to Inspect Drain Tile
Companies like Pipe Detectives and Minnesota-based AgWater are increasingly turning to sewer crawlers like the ROVVER X to ensure that tile drain systems are working efficiently and effectively; AgWater, for its part, expects crawler-related services to eventually account for half of its business, AgWater CEO Peter Bonnema says.
The ROVVER X allows you to control inspections, view and record digital video, log observations, generate reports and link directly to asset-management software from a single solution. With a portable design that allows it to be transported on ATV and other small off-road vehicles, the ROVVER X can easily reach remote areas. Its steerable 6-wheel drive makes it uniquely maneuverable on corrugated pipe and in heavy sediment, and its compact crawler profile allows it to inspect lines as small as six inches. It's also highly versatile, with a design that allows wheels and accessories to be quickly changed to adapt to an array of different pipe sizes and materials (e.g., rubber wheels for corrugated pipe, grit wheels for PVC, and lift carriage for larger lines with standing water).
---
Learn more about how the ROVVER X system can help you ensure that your drain tile systems can optimally support your farming needs, now and well into the future.