When Mark Aure, owner and operator of Pipe Detectives of Fargo, ND, started his sewer inspection and cleaning business he also wanted to help farmers protect one of their biggest investments—drain tile systems. He spent 18 years in the construction industry, much of which was devoted to installing drain tile systems, and he knew he wanted to continue working with farmers to make sure they got quality installations. Drain tile systems remove excess water from soil. These systems alleviate saturated soil conditions, maintaining optimal moisture for plant growth. Oversaturated soil can kill or damage crops by depriving roots of oxygen (source).
"The results of an improperly installed drain tile system can be catastrophic," says Aure. "The right soil, seeds, fertilizer or spray won't help if crops are underwater due to malfunctioning drainage pipe." Through his years as a drain tile installer he talked to many farmers who were in trouble because their drain tile systems were subpar, or because they failed to realize there was a problem with their system before the warranty ran out. "Farmers make investments in drain tile thinking it is going to last them a lifetime," he says. "More often, we see drain tile systems that were built to last only five to ten years."
Aure wanted to give farmers the opportunity to see what their underground infrastructure looks like before they sign off on the work, or before their warranty expires. "Farmers can spend upwards of $150k to install drain tiles in a quarter of land [approximately 160 acres]," Aure says. However, a majority of drain tile installation work is never inspected. "When sewers systems are installed, a pre-acceptance inspection is done by cities before taking possession. Before homeowners buy a new home they usually get a sewer scope inspection done. Farmers must also protect themselves by inspecting their underground infrastructure."
"The concept of inspecting drain tiles with CCTV sewer inspection cameras is fairly new," says Aure. "The market is just starting to realize the benefits and availability of this service." When performing drain tile system inspections, Aure finds defects that can adversely affect the performance of the system at least 50% of the time. He suggests farmers get their tile drainage systems inspected pre-acceptance and before the expiration of the warranty period. "Also, be sure you have a minimum of three to five years' warranty on the work performed, as settling can cause damage," he says.
Business Success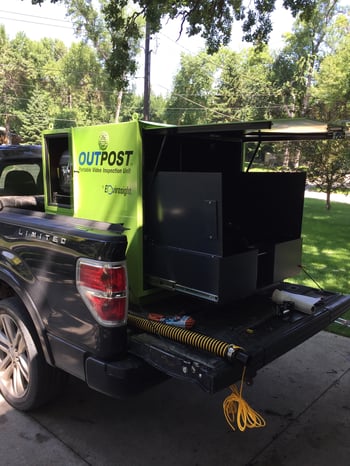 Pipe Detectives has grown quite a bit since its inception in April 2016, but starting out Aure faced some big decisions that could make or break his company. "Initially I didn't know a whole lot about computers or the sewer inspection industry," Aure says. He was also unsure of what equipment he needed. "I was convinced that I should invest in a lateral launch system on a trailer because an equipment sales vendors suggested that was the way to go." However, his wife and the sales team at MacQueen Equipment Group of St. Paul, MN convinced him to start with necessities and add capabilities as his business grew. They advised him to "grow into" a trailer with lateral launch capabilities once he had the business to support it. He ended up buying a ROVVER X sewer inspection system outfitted on an Outpost from Adam Perron and Kevin Fischer of MacQueen Equipment, distributors of Envirosight equipment. "Looking back it was the best decision I made; I had the option of adding capabilities with my ROVVER X, I had the portability to inspect on unpaved farmland with the Outpost on my pickup truck, and my ROVVER X was self-explanatory to use and didn't require a background in computers," Aure says. And his staff are now PACP/LACP/MACP certified and use WinCan asset management software.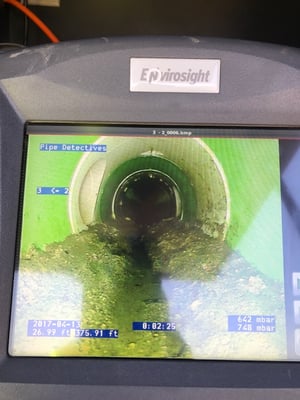 Pipe Detective's work has expanded to inspecting and cleaning municipal mainline systems, performing pre-acceptance inspections for cities, and doing culvert inspections for the North Dakota Department of Transportation. "I recommend municipalities sign a three- to five year contract for inspection work with us," Aure says. "It is important for municipalities to see the progression of deterioration to better budget their rehabilitation and maintenance work." In the near future Aure is planning to invest in a ROVVER X SAT lateral launch system, Quickview airHD zoom camera and Quick-Lock point repair system to meet the demands of his growing business.
"Success in the CCTV inspection industry requires you to be flexible and continuously learning about new opportunities," says Aure. "Also, make good contacts and align yourself with people that will help your business grow. Adam Perron and Kevin Fischer of MacQueen Equipment not only helped me figure out the best equipment and setup for my startup, but also provided me with the necessary contacts and network I needed to start and grow my business."
Discover the ROVVER X or request a free on-site demonstration: