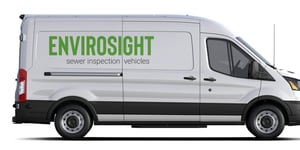 Sewer inspection vehicles give contractors and municipalities a simplified means for taking inspection equipment with them on the road. They help broaden a department's capabilities and increase productivity, offering a centralized way to store and deploy equipment from anywhere.
Inspection vehicles come in a range of options, both in vehicle type and size and added features and assets. Some departments may prefer smaller, more simplified vehicles. Others depend on theirs to complete a full day's work and require amenities like a restroom or microwave to avoid trips back to the office. When deciding which type of inspection vehicle will best meet your crew's needs, consider your answers to these questions.
What equipment are you looking to deploy?
The type of equipment a department is planning to deploy plays a role in the type of vehicle that can be used. Different vehicles support different equipment weight, sizes and types. For example, a more compact inspection system running off inverter power or a small generator can fit in a smaller vehicle. However, larger systems like the ROVVER X SAT II lateral launch may be better suited to a vehicle with more space to accommodate associated accessories. Inspection systems requiring cranes to deploy will need a bigger inspection vehicle to operate, like a trailer or a truck.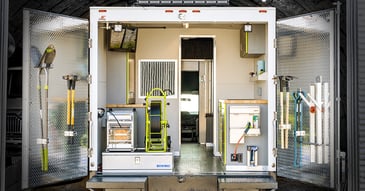 Where are you looking to deploy the equipment?
For a contractor or municipality that mostly conducts inspections on standard roads, a truck, box van or trailer is suitable. However, if jobs frequently take crews into alleys or narrow streets, a cargo van or Sprinter; Transit; ProMaster or Envirosight Outpost is ideal. For off-road or easement work, an Outpost is the way to go.
Do you plan to inspect part-time? Do you have a limited budget?
Inspection vehicles can be costly, but when used regularly they provide a great return on investment. A utility with a smaller crew planning only to run the vehicle part-time for inspections may decide an Outpost or trailer meets its needs because it is less expensive than a box truck or van. However, a department looking to operate a vehicle on a full-time basis is better off investing in a box truck or van and outfitting it with the specific amenities to fit its daily needs.
What is your preferred power source?
Different vehicles offer different power options, including gas generators, diesel generators, MEPS or an inverter. This can vary depending on which power source is compatible with the vehicle's engine, which option fits in the vehicle, what local emissions standards are, etc.
What's needed to support the way you work?
Most inspection vehicles are highly customizable and can be outfitted with a range of features to meet a utility's specific wants and needs.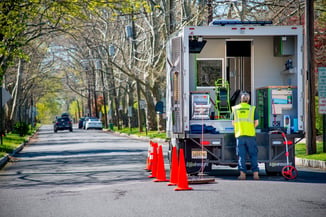 Inspection vehicles are all about increasing productivity for the crew. Because each utility's needs vary so much, it's important to research all options before making any kind of decision. Utilities should outline their budget; what they're looking to accomplish with a vehicle; how many crew members will be working in the vehicle at a time; how often it will be used and where; and which additional features would help simplify the inspection process and increase production.
Talking with an industry professional who can help better assess your department's specific needs can ensure your crew makes the best choice. Envirosight has regional sales and support staff stationed across North America who are available to walk you through vehicle options and answer any questions. To get started, request a free demo today:
---
In the meantime, request a FREE copy of Envirosight's illustrated guide to sewer inspection trucks which provides a visual overview of the different vehicle options, safety features, convenience and storage options, and more: