A sewer inspection report is a comprehensive summary of the observations made during a visual sewer assessment. These reports are tools that help decision makers like engineers, QA/QC departments, IT departments and MRO teams make more informed decisions about how to manage and maintain their wastewater infrastructure.
There are many reasons why a sewer inspection might be in order. Without proper pipe inspections, there is room for small defects to snowball into larger ones, and dangerous consequences like increased inflow and infiltration (I&I), sewer collapses or sewer contamination can occur. Likewise, without thorough inspection reporting, it could be exceedingly difficult for decision makers to understand the true condition of their underground infrastructure.
The availability of high-quality sewer inspection and asset management software on the market today means that inspection reports can be produced digitally. As WinCan LLC General Manager Mike Russin notes, "Right now we're seeing a massive digital transformation on the rise in inspection reporting."
Digital reporting offers many advantages, including the option for AI involvement. AI-assisted software is being trained to automate reports, code defects and more.
Parts of a Sewer Inspection Report
Header Information
While every sewer inspection report is unique, there are several key elements that should be included in any report. Reports typically begin with a header section containing essential information like the wastewater asset's ID number, specific geographical location, operator or company information, and extensive details about the asset's condition. These details include helpful identifiers like the pipe name or reference number as well as shape, material, length and size. There are also notes about the weather, the conditions of the inspection itself and the direction of flow inside of the pipe.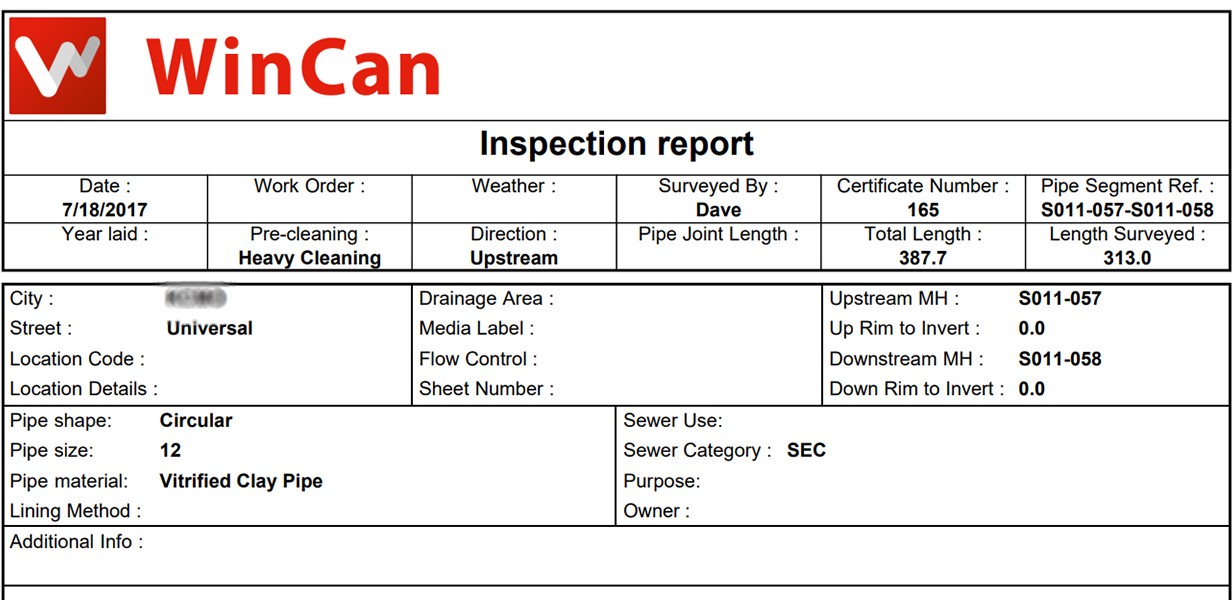 Asset Graphics and Observations
The most central part of an inspection report is the graphic representation of the asset itself. These depictions note any defects, areas of concern and notable features as well as their locations within the asset. For example, this graphic indicates the starting point and end of the pipe as well as where the survey began and ended. It also notes the approximate level of water (5% of the cross-sectional area) present at the pipe's entrance.
This report also depicts the intrusion of tap break-ins along the pipe, located at 10.50 ft, 60.90 ft and 178.20 ft from the pipe's entrance. Included are the clock position of each break-in and the timestamp of when each break-in was observed via the inspection video. With the help of inspection software, screengrabs from the inspection video can be included in reports, providing useful context and further detail on areas of note.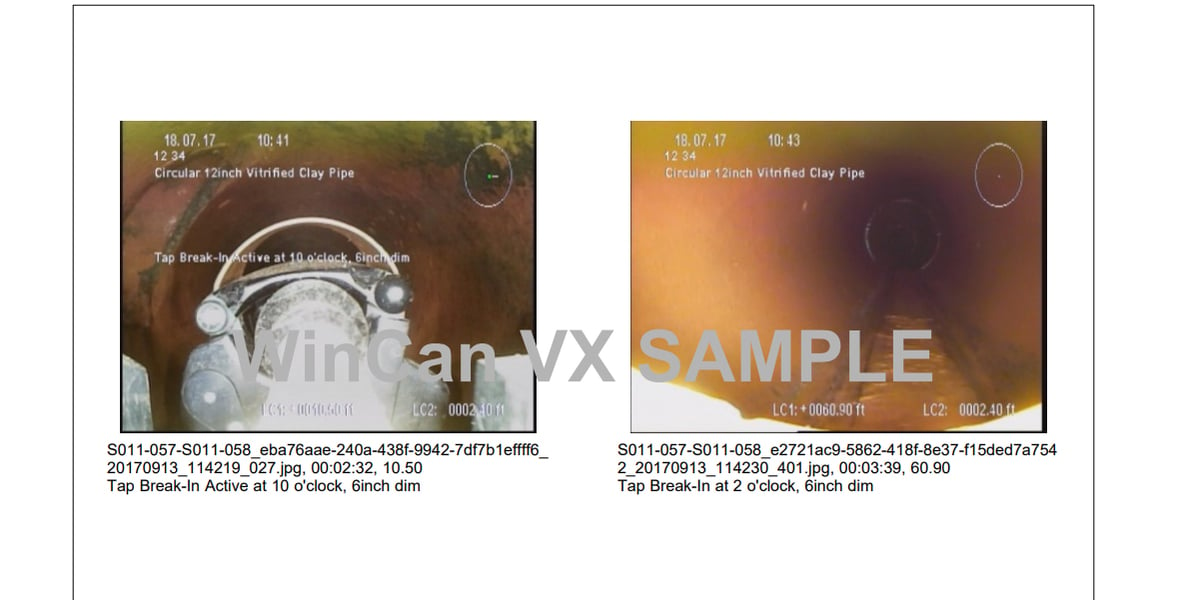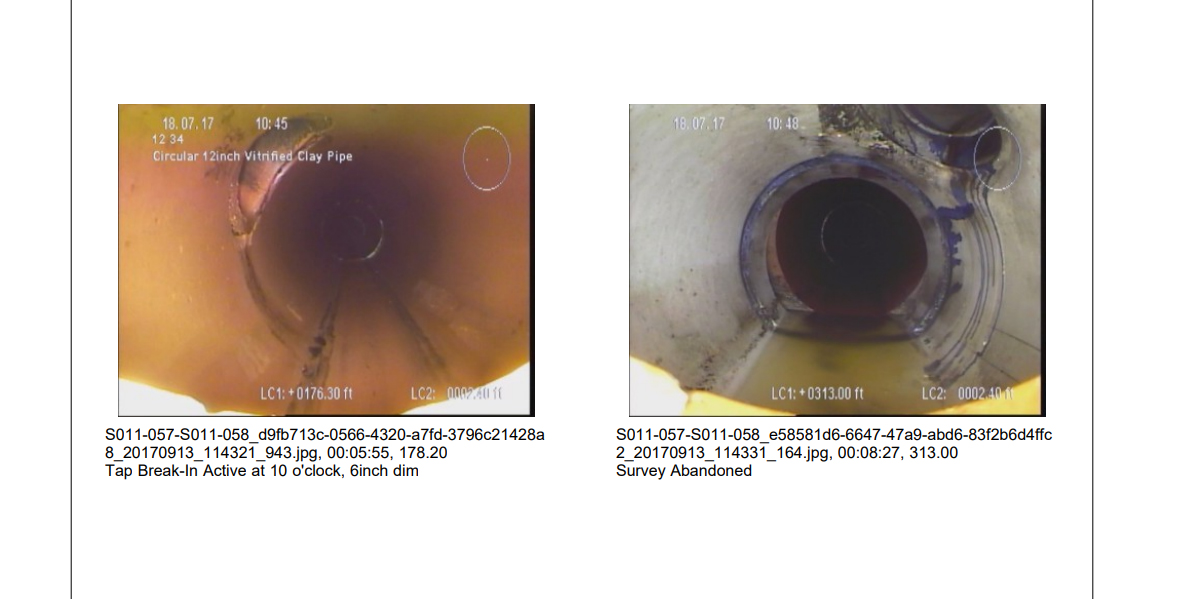 Coding Standards
In any inspection report, asset features and defects are coded using a specific inspection coding standard, such as NASSCO, the most used set of coding standards in the U.S. Coding standards ensure that reporting data stays consistent and is easy for anyone with a comprehension of the standard to understand. Under NASSCO, codes are assigned either by hand, with the operator following the PACP manual, or through NASSCO-certified inspection software.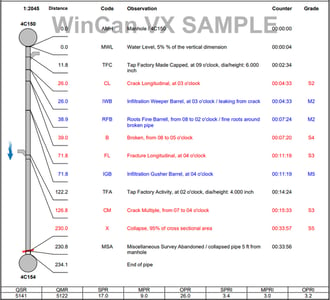 In NASSCO's PACP condition grading system, defects are assigned a value of 1-5, with 1 being the least severe and 5 the most severe.
In this graphic, for example, a longitudinal crack is present at 26' from the pipe's starting point. This crack has a grade of S2, indicating a 2 level of severity for this structural defect. At 71.8', there is heavy infiltration occurring that has a severe operation and maintenance condition grade of 5.
Whole assets themselves are also given overall condition grades that are calculated through the sum of their defects. Taken altogether, this information helps engineers determine which assets are in greatest need of maintenance, repair and/or further investigation.
WinCan's Sewermatics is at the forefront of AI-powered asset management reporting. With WinCan's powerful AI engine, your team can save time via automated defect coding and GIS visualization capabilities. Learn more by requesting a WinCan demo today.