The 2020 NASTT No-Dig Show has been postponed due to COVID-19, but PRT is continuing to support sewer rehab professionals with the equipment they need to maintain essential wastewater infrastructure. Take a look through the innovative sewer rehab equipment PRT will be bringing to the show floor once it's rescheduled. In the meantime, our equipment is available to buy or rent today, and our team is on-hand to provide you with free live video demos.

Micro S Light+ Small Diameter Cutter
This PRT exclusive cutter can be used in a large range of applications and has excellent flexibility in bends. It offers the same cable drum and video software as the Micro S Automatic, but its two-bladder design means significant cost savings.
Reaches 164' inside 3-6" pipe, or
up to 9'' with optional adapter
Fits through elbows in lined 4" pipe
Offers joystick control and 10" touch-screen monitor
Articulates on 3 axes: 400-degree rotation, 90-degree swivel and 4" feed
---
LED-based Curing for CIPP
SpeedyLight+ cures at speeds ranging from 0.66 to 3.3 fpm—up to five times faster than traditional technologies. Because it's compatible with felt (as well as invertible glass fiber), SpeedyLight+ can cure 90-degree bends in lines down to 4", as well as other challenging geometries like transitions and verticals. Free of styrene and amines (and the associated odor), UV-based cure technologies like SpeedyLight+ raise fewer objections from the public and your crew.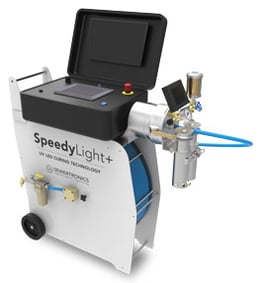 Cures felt liners (as well as GFRP), handling bends, transitions and verticals.
Cures at up to 3.3 fps, three times faster than lamp-based UV.
Styrene and amine free, so no odors or complaints from the public or your crew.
No mixing, shelf life or working time considerations. Can be wet out remotely or on-site.
Cures as far as 328′ in lines 4–12″.
Draws half the power of UV lamps.
Integral camera lets you monitor cure in real time.
---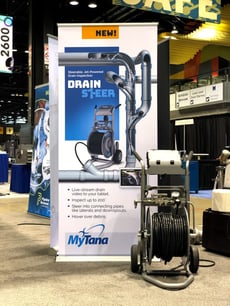 Clean and Inspect in a Single Pass with DrainSteer
Six thrust nozzles drive the DrainSteer camera as far as 200' into lines, and a steering nozzle helps the system navigate through junctions and hover over debris. Both a jetter and camera, DrainSteer flushes away debris for a clearer view and live-streams video to your tablet to immediately diagnose pipe condition. Climb vertical stacks and navigate turns and bends with its maneuverable design.
---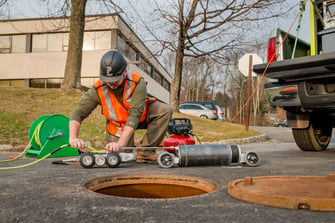 Rapid Point Repair with Quick-Lock
Target failing pipes with a stainless steel rehab sleeve that installs in minutes. Positioned with a crawler and expanded pneumatically, Quick-Lock provides structural trenchless pipe repair with heavy-gauge stainless steel and targets infiltration with an EPDM rubber gasket.
---