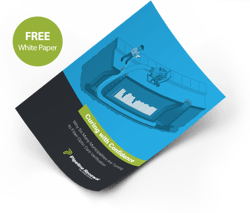 CIPP liner curing is a complex process involving sensitive chemical reactions influenced by unpredictable environmental conditions. Although reliable when performed to spec, if a CIPP liner is improperly installed, the repairs can be costly.
Traditionally, the CIPP cure process is monitored by measuring the temperature of the interface between the liner and the host pipe at both manholes using a thermocouple probe or heat gun. This method of measuring temperature may lead to substantial inaccuracies—and disruptive repairs. "There can be anywhere from 5-10 feet all the way to 500 feet between probes. So in between them, you're just guessing what the temperatures are," says Alec Herd, Project Supervisor for Inland Pipe Rehabilitation (IPR).
Yet monitoring heat is essential to ensuring the quality and longevity of a liner installation. In contrast to older strategies for tracking temperature, the Fiber-optic Cure Verification (FCV) method is both reliable and cost-effective. Using a linear fiber-optic probe, the FCV system partitions a liner into zones of 1.5 feet, monitoring the average temperature of each zone to determine when cure temperature has been reached and when post-cure and cool-down periods have concluded. Measurements are taken every 30 seconds and are accurate to within ±2° Fahrenheit. This accuracy not only helps ensure the reliability of the liner, but also prepares the way for happy customers. As Herd describes, "Using [FCV] gives customers a level of confidence, knowing the liner cure was verified through a system as complex and thorough as [it is]."
To learn more about the benefits of using FCV, download the free white paper "Curing with Confidence: Why So Many Municipalities Are Turning to Fiber-Optic Cure Verification." This white paper was created as part of Pipeline Renewal Technologies' commitment to providing educational and informational resources for wastewater utilities and rehabilitation contractors.