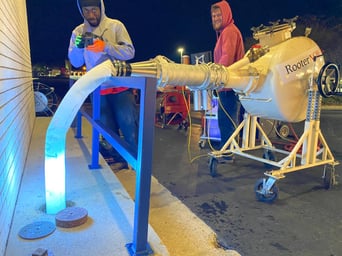 Since opening its doors in 2006, South Carolina-based plumbing company, RooterNow, has continually invested in innovative equipment and technology to provide its customers with a greater deliverable than its competitors could.
"For us, we don't believe in 'good enough,'" says owner Jack Frye. "We always tell people, 'We're the plumber's plumber.' When something's gone wrong and 5 of them have tried to fix it, that's when we get called. We tend to problem-solve major issues. The complicated projects always seem to end up falling in our laps."
Investing in Equipment
The most recent equipment RooterNow purchased to take their productivity to the next level is the LED-based light curing technology for CIPP, SpeedyLight+. The crew purchased the system from PRT early in 2020 looking for a more efficient curing method.
"The reason why we purchased the SpeedyLight+ was because of just what it says in the name—it's speedy," Frye says. "The time-savings and efficiency with relining was the biggest reason we chose it."
RooterNow serves customers across the state of South Carolina, and even into neighboring states. Their work takes them to residential and commercial facilities, as well as to local military and governmental bases and nuclear power plants, Frye says.
They provide a range of services, including sewer repair and relining, drain cleaning, hydro jetting, cast iron pipe restoration, water heater installation and leak detection. And the company has worked to ensure they've built an inventory of equipment to provide customers with a higher-quality deliverable. As well as SpeedyLight+, RooterNow boasts PRT's IMS Auto Plus and IMS Nano small-diameter cutters, and several Verisight Pro+ push cameras from Envirosight.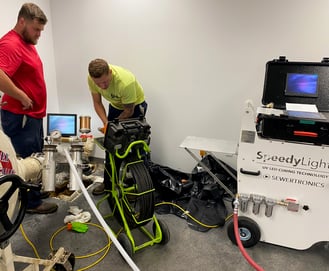 Growth in Numbers
Since purchasing the SpeedyLight+, Frye says relining efficiency has increased around 75%, and the company has seen around a 35% increase in revenue and profitability due to spending less time on any single job site.
"It's been absolutely fantastic," Frye says. "Due to its efficiency, my guys are able to shoot 2 to 3 liners in a day. When we were using the heat assist and ambient methods, most days we could only complete one because it was so cumbersome setting up the steam."
Previously, RooterNow depended solely on steam and ambient curing for its relining projects. "There's a time and place for steam, but for our business, the SpeedyLight+ made it so my guys are home at 5 o'clock," Frye says. "They aren't out every night until 9 or 10 p.m."
Successful Implementations
In just a few months of owning SpeedyLight+, RooterNow has already taken on some unique projects using the light-curing technology.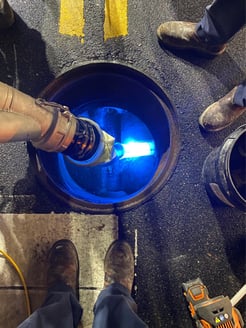 "We recently shot a line underneath an aquifer and the drain line was connected to one of our oldest restaurants in Charleston," Frye says. "Due to the restaurant being that old, the surrounding and connecting underground infrastructure isn't accessible by digging, so trenchless rehab was not only the best option, but almost the only option without an extreme expense to the city."
At risk was a historic, handmade brick wall and arch which could have been compromised by digging, and potentially catastrophic if disrupted, Frye says.
"Once we televised the line for a pre-inspection, we found that the line had a 4"-to-6" transition with multiple 45-degree bends," he says. "We decided to use Max Liner's 4D Flex Liner in conjunction with the SpeedyLight+ to rehab the line quickly, with minimal disruption to the neighborhood and the surrounding above-ground infrastructure. It would have been a massive rehab project for the City of Charleston. We were able to invert it and complete the project within a day. It was a really big deal."
The team also recently used SpeedyLight+ to reline an 8" vertical pipe in a new all-glass, high-rise building in downtown Charleston, inverting it roughly 30 feet and curing from a 12-foot-deep manhole.
Support from PRT
Frye says the support that comes with the equipment they've invested in has made his team more successful.
"The PRT team is amazing," Frye says. "It's been a wonderful relationship with Steve (Webster) and with Nick (Sebastian). I can't tell you how many times I have talked through complicated problems with them because of that relationship. They listen, give us ideas, and help us to find a solution. That's been really nice."
Request a free on-site demonstration of SpeedyLight+ today: