Quick-Lock point repair sleeves are an effective, easy-to-install trenchless pipe repair solution. Nick Sebastian, PRT's East Coast territory sales manager, gives rehab pros the low-down on Quick-Lock's features, applications, benefits and more.
Q: What are Quick-Lock's basic features?
A: Quick-Lock is a stainless steel sleeve complete with mechanical locks. These locks allow it to be expanded against the inner wall of a sewer pipe to restore structural integrity in damaged areas. An EPDM rubber gasket surrounding the sleeve helps block out infiltration. This gasket is molded and has a continuous seal so there are no weak points in the rubber. The seal has a 50-year expected sewer life based on normal conditions.
The biggest thing about Quick-Lock is that it's non-resin based. In other words, Quick-Lock is purely mechanical. Just about every other kind of repair product on the market involves resin, either for structural support or for adherence purposes. Quick-Lock's lack of resin shortens installation time.
Q: What applications does Quick-Lock have and where is it most successful?
A: Quick-Lock has tons of possible applications, including repairing holes, cracks, circumferential and longitudinal cracks, cross bores, general I&I damage, root infiltration and blocking off dormant laterals.
These repair sleeves work on all types of pipe other than corrugated pipes, where sealing may not be possible.
Q: What are the benefits of using a technology like Quick-Lock (as opposed to CIPP)?
A: CIPP is the industry standard for point rehab and repair. Some downsides to the CIPP process are that it's messy, takes an hour or two to cure, and emits a strong chemical smell. In general, Quick-Lock is less disruptive to homeowners and communities than CIPP is. CIPP installation also requires double-sided access to the repair area, while Quick-Lock only requires one access point.
Q: How is Quick-Lock installed?
A: After preparing the sleeve, you load it onto a packer. Then you use a sewer crawler to push the packer to the damage site. Once at the site, you inflate the packer using compressed air and the sleeve expands, securely locking it into place.
Q: What kind of misconceptions might people have about Quick-Lock?
A: The sleeves are simpler to operate than people think! Many people don't realize that they can install Quick-Lock themselves as long as they have a sewer camera.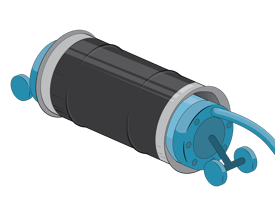 Q: How else is Quick-Lock different from other point repair solutions?
A: Normal pipe repair patches are usually 3-4 feet long, while Quick-Lock sleeves are standardized lengths—they're a lot shorter than most pipe patches out there. They are shorter because they can target damage more accurately. And unlike other mechanical point repair products, you can install multiple sleeves serially, overlapping them to cover a larger area.
Find out why Quick-Lock is the trusted point repair solution for many municipalities. Schedule a Quick-Lock demo today.