What Is Photogrammetry?
Photogrammetry is a 3D coordinate measuring technique that uses photographs to determine distance. It was developed in the mid-1800s, just years after the invention of photography itself in 1826. At its core, photogrammetry is the science of making measurements from photographs. This method has many possible applications, including measuring coordinates, creating topographic maps and digital models, and quantifying distances, heights and volumes. It is commonly used to measure sites that are difficult or dangerous to access. In the sewer inspection industry, photogrammetry offers a host of insights into sewer condition and rehabilitation options.
There are two main classifications of photogrammetry: aerial (photographs are taken by a camera in the air) and terrestrial (photos are captured by a camera in a fixed position on the ground). A common type of photogrammetry that measures objects relatively close to each other is called close-range photogrammetry. Digital photogrammetry, another popular technique which uses digital cameras and is based on the processing of digital images, is favored because of its high accuracy and fast turn-around speed. Fields such as architecture, engineering, geology and manufacturing make use of photogrammetry software that is designed to create 3D models from photos.
How Does Photogrammetry Work?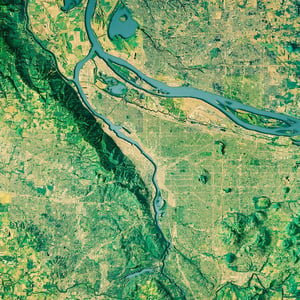 In photogrammetry, 3D coordinates are derived from points within 2D photos. Using the principle of triangulation, which involves taking photos from at least two different locations or angles, lines of sight can be developed from each camera to points on the object being photographed. These lines of sight are intersected to produce the 3D coordinates of the points of interest.
How Is Photogrammetry Used in Wastewater?
In the wastewater world, close-range photogrammetry can determine pipe geometry by extracting dimensional data from a series of images of a specific pipeline. Sequential video frames taken from sewer inspection footage are ideal for this purpose. The 3D data derived using photogrammetry can further characterize pipe defects and help with building virtual models of collection systems. These virtual models facilitate flow studies and system capacity planning, and can even be used in conjunction with augmented reality to provide operators with a virtual glimpse at underground infrastructure, helping them better plan repairs and rehab work. Unlike other methods that are commonly deployed to acquire 3D data, photogrammetry can also be applied for retrospective analyses, which opens up more opportunities for operators to put this technology to use.
The Future of Photogrammetry in Sewers
An integral part of photogrammetry is photo resolution; the higher resolution the photos are, the more accurate the final virtual model will be. Flexspection, Envirosight's new sewer video capture platform, allows operators to throttle between three resolution options to best fit their inspection needs. Flexspection's higher resolution options, combined with Envirosight's light-sensitive, low noise cameras, are ideal for employing photogrammetry to a high degree of accuracy.
As more industries begin implementing photogrammetric methods, the more nuanced this cutting edge technology becomes. While photogrammetry is relatively new to wastewater, it's on track to become an integral part of sewer assessment workflows in the near future. Envirosight's Flexspection platform is designed to adapt to emerging technologies like photogrammetry. Request a free, on-site demo of Flexspection today to see this savvy system for yourself.