Envirosight's newest poster details the causes of inflow and infiltration, or I&I. Inflow occurs when water from aboveground sources enters sewer systems through illegal or faulty connections or openings. Infiltration happens when stormwater seeps through cracks, joints or manholes into sewer pipes. Together, I&I consists of water that does not have to be treated but ends up in a treatment plant anyway.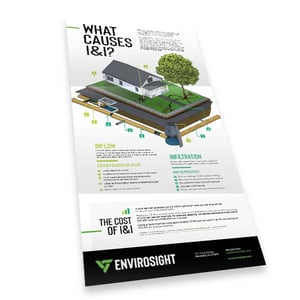 Excessive amounts of I&I are dangerous because they can exceed a treatment plant or collection system's flow capacity, which puts the facility at risk of sewer damages and sanitary overflows. These untreated water discharges are particularly hazardous; they endanger our natural environment and can cause many health issues.
Learning the sources of excessive I&I can help operators to more easily identify related problems in the field. And while treating I&I can be a difficult task, keeping sewer systems running smoothly and safely is necessary for every municipality. Request our new I&I poster to learn more.