"APS offers anything and everything in the trenchless infrastructure market, from cleaning and televising to laser profiling, to pressure grouting, to manhole rehab and inspections, to CIPP liners," said Allan Cagle, president of Atlantic Pipe Services (APS). "You name it, our team performs it."
APS serves customers across Florida and the Southeast, specializing in pipeline cleaning, inspection and repair. The contractor relies on Envirosight inspection equipment to support them during day-to-day assessments and unique challenges alike.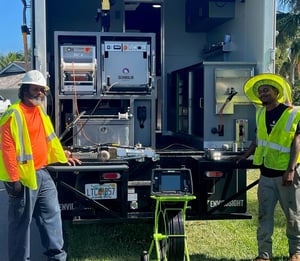 While the APS crew utilizes an assortment of Envirosight equipment, they depend on the powerful ROVVER X inspection crawler system in particular; to date, the contractor has invested in 18 ROVVER X units. Recently, APS took delivery of a new ROVVER X reel with serial number 4000! This was the 4000th reel sold, marking a new milestone for Envirosight. The APS team had the crawler system mounted into an inspection truck.
"We're definitely pleased with the product and the service from Brian Stewart [of Environmental Products Group (EPG)]," Cagle says. "Recently, we sent one of our employees to the Envirosight headquarters in New Jersey for training so that we can start doing maintenance internally."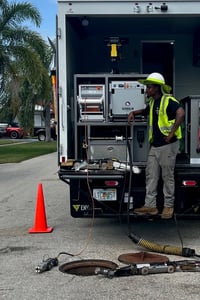 Since we last caught up with APS in 2020, the company has tripled in size: "We now have over 150 team members in four divisions throughout Florida, with our headquarters in Sanford, Jacksonville, Tampa and West Palm Beach," says Jon Lewis, director of operations at APS. "We've undergone a lot of changes and learning curves along with that growth."
And they aren't slowing down anytime soon. "We're looking to continue expanding in 2023," Cagle notes. "We want to increase our footprint into Georgia and the Florida panhandle. With the continued support by EPG and the quality products provided by Envirosight, APS will continue to dominate market share."