In just three years, private contracting company, Atlantic Pipe Services (APS), turned its two-person team to a staff of 64. President of the company, Allan Cagle, says that growth and success can be attributed to two things: investing in high-performance equipment and a crew selectively hired to align with their vision.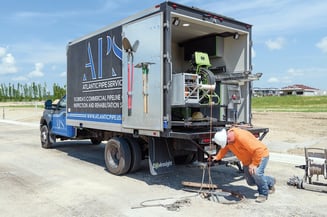 "We stay on the cutting edge of technology," Cagle says. "We buy all of our equipment brand-new, which makes us unique to our competitors. We try and stay above the competition all the way around, from our services provided in the field to how we communicate with our clients, to our staff, to our equipment and technology."
One-stop Shop
Serving all types of customers across the state of Florida with divisions in West Palm, Tampa, Orlando and Jacksonville, APS specializes in vacuum and jetting services, pipeline inspection, repair and rehabilitation, and hydro excavating and utility locating.
"We strive to be a one-stop shop," Cagle says. "We offer anything and everything in the trenchless infrastructure market, from cleaning and televising, to laser profiling, to pressure grouting, to manhole rehab and inspections, to liners. You name it, we perform it."
When opening their first facility just outside Orlando in 2017, Cagle and his partner were in search of equipment that checked off one specific box: local support. Cagle reached out to three companies in the area, but was ultimately drawn to equipment at Environmental Products Group after talking to Envirosight Product Specialist, Brian Stewart.
"When you're a private contractor like myself, downtime is crucial," Cagle says. "I cannot afford to have a camera go down, send it in for repair, and wait three days to get it back. We run a really tight schedule, so I was ultimately looking for a company who would offer really good product support after you purchase their equipment. Brian and the rest of the team have done an excellent job for us."
Adding to Its Fleet
As a two-man team in 2017, Cagle was running the Envirosight CCTV truck himself every day, which allowed him to get hands-on experience with the equipment.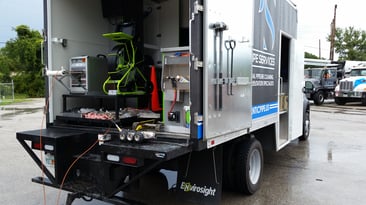 "I was able to compare the equipment to what I had used in the past and I was very pleased," Cagle says. "Everything is really user-friendly and durable."
APS has since acquired an impressive inventory of Envirosight products, including seven CCTV trucks equipped with ROVVER X crawlers and SAT lateral launch systems, another ROVVER X deployed in an Outpost enclosure for off-road work, half a dozen Verisight Pro+ push cameras, a CleverScan manhole inspection system, and the Quick-Lock rehab sleeve from partner company, Pipeline Renewal Technologies.
"The majority of our work is definitely cleaning and televising," Cagle says. "That's where it all starts. You can't do any sort of rehab until you get eyes on whatever is going on. Even if it's just being proactive and taking a look at old pipes to assess condition, televising is where it all begins."
Product Capability
The crews at APS have been able to count on their Envirosight equipment to tackle some challenging projects, and it has prevailed even when pushed to its limits, Cagle says.
Several years ago, APS was tasked with inspecting an unmapped 24-inch storm pipe.
"The ROVVER X reel comes with 1,000 feet of cable and I ran it out almost the full length," Cagle says. "I was really impressed with the equipment at that point, that I had the ability to run out truly 1,000 feet successfully."
Along with investing in new, innovative equipment, Cagle says APS has been able to sustain company growth with the help of many other hands.
"We've been selective about building our team and how they operate, from personnel in the field, to marketing, to office staff," he says. "One thing I've prioritized is trying to keep the same operators on the same piece of equipment, which gives them a sense of pride with their equipment and their truck and it also provides me accountability. It takes all of us to make this thing work—to operate successfully and to grow like we have."
Interested in learning more about the ROVVER X? Schedule a free on-site demo today: