Leaning into government work allows wastewater contractors to increase job opportunities, diversify capabilities, and demonstrate expertise. If these are goals your contracting company has set for 2021, now is a great time to get started.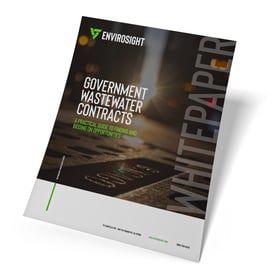 But winning government contracts doesn't happen overnight. The process requires considerable work—including finding solicitations, evaluating requirements, and completing each piece of the bid.
Our white paper, Government Wastewater Contracts: A Practical Guide to Finding and Bidding on Opportunities, breaks down the details of each stage and includes recommendations for how to approach them most effectively.
Advice from Inside the Industry
When it comes to winning the solicitation, it's important to make a good impression on the municipality, says Scott Laney, owner of Carolina's Underground Services contracting company.
"Over the years bidding on sewer inspection work for municipalities, I've learned how important it is to get in front of the decision-makers," Laney says. "If I'm delivering a proposal to someone I don't know, I try to get in front of them first and introduce myself. I want to come across as confident and I want to stand out from the other quotes they're looking at."
Once you've won the bid, ensuring delivery on the contract's requirements is imperative to building a good reputation—and getting the opportunity to complete work for that municipality again, he says.
"It's essential you do what you say you're going to do within the set time frame," Laney suggests. "I've found that the quicker you can complete the work, while ensuring quality isn't compromised, the more they appreciate it."
---
For more guidance on evaluating government contracts and standing out from other bidders, download a FREE copy of our white paper today: