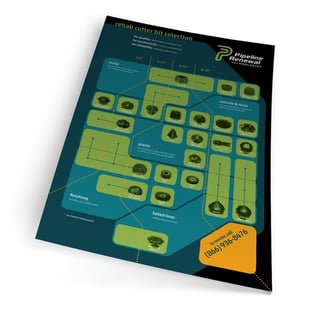 Sewer rehabilitation cutters are used to reinstate lateral connections post-lining, and for other functions like CIPP preparation (grinding away protruding taps, smoothing offsets and joints) and repairing liner defects. Even the most advanced lateral and mainline rehabilitation and reinstatement cutters can't guarantee a precision cut without the operator choosing the right cutter bit for the job at hand.
Using the wrong cutting bit can damage your cutter, slow down your team and add unnecessary cost. Pipeline Renewal Technologies' cutter bit selection poster helps you choose the right cutter bit for your task, whether you're relining sewer pipes, reinstating laterals, grinding offsets, or removing roots or calcification. Use this handy reference to find the best bit based on:
Pipe Diameter—3" to 28"

Material—Metal, concrete, stone, PVC

Task—Grinding, PVC or root cutting, liner removal
Simplify your sewer pipe rehabilitation with this easy-to-understand poster, perfect for your van or truck. Download it as a PDF, or request to have it mailed to you for free (anywhere in the US or Canada).