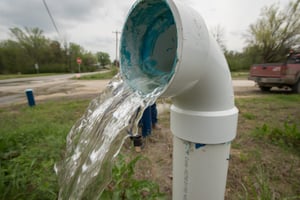 America's drinking water infrastructure is getting a D, but it's not something we can afford. From a wide lens, the reason our national drinking water infrastructure is failing is simple: It's old and poorly maintained. But narrow the focus, and the explanation behind the failing grade is more complicated.
Nearly 300 million Americans receive their drinking water from one of over 51,000 community water systems. But just 17% of these serve about 92% of that population. The remaining, over 42,000 of them, serve just 8% of the population. And these systems are bearing many of the consequences of that failing grade.
Drinking water systems have historically received the majority of their budget from ratepayers. But the funds generated through rates varies widely across the country and can suffer if populations shrink or local income rates fail to match inflation. The gap between ratepayer funding and system needs has historically been met by low-interest government loans through the Drinking Water State Revolving Fund, a federal-state partnership driven by the Environmental Protection Agency (EPA). As needs have grown, state and federal allocations have fallen short, particularly for smaller and rural systems.
In 2014, Congress passed the Water Infrastructure Finance and Innovation Act (WIFIA), which allocated funding primarily for large water infrastructure projects. This act provides financial support for "water and wastewater projects of national and regional significance." Because of the objective of this act, it mandates minimum project sizes: $20 million for large communities and $5 million for small. For small systems that don't meet these or other requirements of the program, funding necessary improvement projects may seem beyond the means of the community.
In April of 2019, the EPA announced the availability of nearly $42.8 million in drinking water grant funding for small and disadvantaged communities through the Water Infrastructure Improvements for the Nation Act (WIIN). This program is designed to assist these utilities in meeting drinking water standards under the Safe Drinking Water Act (SDWA). For many, WIIN provides much-needed financial support for projects relating to treatment, transmission and distribution, storage, and consolidation of drinking water, as well as household water quality testing and assistance to increase technical, managerial and financial capacity. In short, this act aims to provide small and disadvantaged communities with funding to improve the safety and efficiency at every point along the drinking water delivery process.
Safe drinking water is an essential piece of any thriving city. For drinking water systems serving small or low-income populations, maintaining water quality can be an impossible feat without outside financial assistance. Government grants are key to meeting these funding needs. To learn more about WIIN and how your small system can benefit from this grant, visit the EPA WIIN Act Grants Program.
Learn how to find, write and win government grants with our series: Municipal Grants for Water and Wastewater Systems.