When the City of Wichita's Stormwater Utility Division was tasked with assessing its entire stormwater collection system in 2018, estimates placed the project completion time at greater than 40 years. Their lone CCTV van set to work, but it was slow going.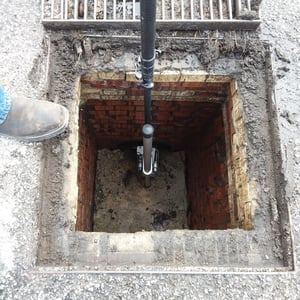 Darrin Deutscher, General Supervisor II for the Stormwater Utility Division and a 33-year veteran worker for the City of Wichita, Kansas, wasn't sure how to increase efficiency. But it was clear the Stormwater Utility Division needed to consider other options.
He credits John "Red" Phillips, another General Supervisor II in the Stormwater Utility Division, with finding the answer. "Red started looking around. He reached out to Key Equipment, and Nate Miller turned him on to Quickview and brought one around for testing. The price point was right, and we got four of them for less than another CCTV system."
The impact was immediate. "Honestly, we were surprised how much it instantly changed the way we go about business, for the good," says Deutscher. "I didn't expect it to give us all the things it gave us. I thought it would let us see things. But I didn't expect they would let us set up a system showing which conduits are failing, and everything else.
"Now, instead of CCTV'ing everything, we use these zoom cameras. You can see really well, almost 300 feet, and it looks like it's driving down the line–it's really cool."
And that 40-year or greater inspection timeline? "With the four pole cameras," Deutscher notes with a chuckle, "We can do the whole city in five years."
A Complete Workflow Revamp
For the first 50 years of operation, Wichita's stormwater system was under the Sewer Utility, which took a hands-off approach to maintenance. Today, Deutscher, Phillips, and their team of 19 work hard every day to maintain some 1,400 miles of storm conduit. "We're pretty dang proud of what we do, and proud of the equipment."
And adding Quickview airHD to the mix has transformed how the cleaning and repairs functions of the Stormwater Utility Division operate. "Before, the crew would go out and televise every line in a mile section," Deutscher says. "We'd just work our way across the city, to the center. And we'd get pulled off for emergency stuff, to look at a sinkhole in the street, etc. Now we can use Quickview to look down a line, and sometimes we bring the crawler, but most of the time we can get away without it."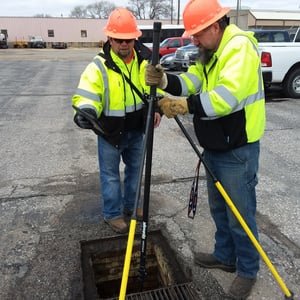 The simplicity of the technology was a surprise for Deutscher, who spent 17 years televising. "Pole cams in the past used to have a big vest to put on, with cables and battery packs. And then you couldn't see the video until the end of the day in the office. Now it's on wi-fi. Our guys can actually see what they're videoing, they can adjust the iris and the lighting to make it better. Also, just the zoom capability of this Quickview is out of this world. [Before finding it] we'd even thought about using a GoPro, but you came out with this and it's perfect."
In the 10 months since they've received the zoom cameras–and with three months off for snow–they've assessed 5,124 sections. Their long-term plan is to inspect close to 1,000 per month, with three Quickviews running in the field at all times. Deutscher explains, "We only use our CCTV equipment if we need to do a detailed video. Otherwise, I look [at the Quickview footage] every day and say which lines need cleaning, repair or inspection."
An Efficient Pipe Rehab Program
The Stormwater Utility Division manages an extensive inspection and rehab program to ensure the health and safety of the Wichita community, which is the largest city in Kansas. Deutscher explains, "Lots of lines are deteriorated, and the corrugated pipes in particular are failing. Many are 80 years old, or as old as the City of Wichita itself.
"We're replacing as much as we can. I work with my engineer on the rehab program. Anything that's fewer than four feet deep, my guys replace. Anything deeper, and we have contractors do it. But we try to do as much of it as possible in house. The department (Stormwater Utility Division) has a five-man crew that all they do is put pipe in and repair catch basins."
Quickview not only helps them identify what's going on, but it's helping with planning as well. "You can see damage, and any debris or offsets. With the faster turnaround we can also say 'this pipe is failing at this rate,' and we can get a better idea on budget."
Smarter Cleaning Workflows
Quickview has also enabled the City to better utilize its available resources. "We have five cleaning crews," says Deutscher. "Those trucks used to go out to a section of town and run every line, because you couldn't tell if they were dirty or not. Now we do about a third of the cleaning—only the ones that need it."
Not only can they allocate resources more efficiently, but the cleaning crews can also use the inspection footage to make smarter decisions about how they tackle dirty lines. Video collected with Quickview is transferred via wi-fi to WinCan Web, which syncs effortlessly with the City's CentralSquare asset management system. That connection is all-important, says Deutscher. "The video is actually in the system. I can go into any asset that's had it done, and anyone else can, too. [The crew] can look before they go in to clean to pick the right nozzle."
Emergency Callouts and More
Quickview is a versatile tool, and it's also come in handy for projects that fall outside of routine workflows. When Wichita first deployed the Quickviews, the Stormwater Utility Division was working on a Decision Support Tool (DST) to help prioritize system renewal and replacement decisions and inform long-term financial needs. The Stormwater Utility Engineer needed data to determine the types and conditions of the pipes in the system. With Quickview in the mix, the team was quickly able to gather the information necessary for the DST.
And emergency callouts now have an easy answer. Spring downpours in the Midwest can create big problems fast when collection systems fail. "[The] week before last, we had a rainstorm, and a line was clogged up," recalls Deutscher. "They worked for seven hours but couldn't get through it. One of the guys took the pole cam downstream and saw a massive 30-foot root ball. We had to excavate. Without Quickview, we would have been guessing. This made it instantaneous."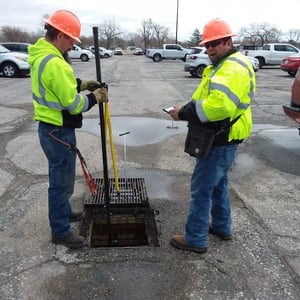 Many Problems, One Solution
Wichita's Stormwater Utility team thought it was buying a few pole cams to help alleviate the demand on their crawler operations. What they got was much more. With Quickview airHD, a four-decade or greater timeline was reduced to five years. And Deutscher and his division have been able to rethink the team's processes for everything from routine cleaning and inspection to identifying root balls. Having the right tools for the job means everyone can focus on what they do best–and do it even better.
The problems the City faces–aging infrastructure, wasted resources due to limited insight underground, emergency callouts that disrupt routine maintenance–are not unique to Wichita, or to the region. Quickview offers a convenient, cost-effective solution to increase efficiencies and boost productivity across the board. Deutscher and Phillips have both seen the benefits this solution can bring to municipalities of all shapes and sizes.
"I would recommend it to any community," Deutscher says, "including ones that can't afford a CCTV system, because this can take care of 95% of what any city needs to look at. And then there's always contractors that can come in and televise that 5% you really need to look at. Everybody could use at least one of these, large cities could use multiple."
Ready to see what Quickview airHD can do for your collection system? Schedule a demo with one of our pros: