Formed in 1968, the Metropolitan Sewer District of Greater Cincinnati (MSD) maintains over 3,000 miles of sewer pipe. MSD's collection system, which serves about 230,000 households and businesses, includes both older combined sewers and separate sanitary sewers, making maintenance and compliance an ongoing challenge.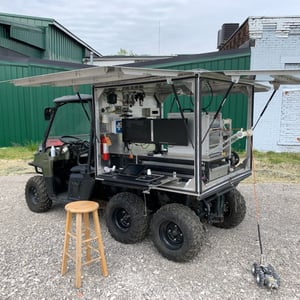 Advantages of New Equipment
Large cities like Cincinnati rely on big departments and operations teams to keep things up and running. As such, MSD requires a full fleet of top-notch equipment. Brandon Ashcraft, senior engineering technician at MSD, works with all of this hardware. He oversees the equipment side of CCTV inspection at the utility, including equipment repairs and purchasing. A former mechanic himself, Ashcraft understands what it means to have durable, reliable gear.
Ashcraft is always on the lookout for new, rugged inspection equipment. In September 2020, MSD was exclusively using a competitor's assessment gear. But that all changed when BEST Equipment Company introduced the utility to the ROVVER X SAT II lateral launch system.
"The SAT has been a big help for us," Ashcraft notes. "Those crawlers seem like they can go pretty much anywhere, and they have a great picture."
Soon after purchasing the SAT II, MSD invested in two ROVVER X sewer inspection crawlers. And a few months ago, the utility custom-built an off-road inspection vehicle. Today, MSD owns two Envirosight inspection vans (with two more trucks arriving in June), two ROVVER X SAT II crawlers, and three Outpost portable inspection gear units. The MSD crew's been impressed with how hardy the gear is in the face of its frequent use.
"The equipment has been very durable," Ashcraft says. "We even have one RX95 camera here that has held air for several years! … Repairs on these [crawlers] are easier than some of the brands we've had in the past."
The Qualities of Superior Equipment
ROVVER X has improved the MSD crew's uptime. In addition to fewer repairs, the utility has standby equipment, and performs maintenance in-house using a modest inventory of spare parts.
"We keep spares on the shelf… Whatever we have to do to keep our guys moving," says Ashcraft. "We want to reduce downtime as much as possible."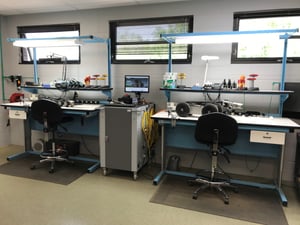 With so many moving pieces in play, the team appreciates when their gear works as hard as they do. Reliable hardware ensures that MSD can respond in crises and meet standards.
"We've been running this equipment for a while and we don't have the common problems we've had with other systems…. With the Envirosight equipment, we just don't see those issues," says Ashcraft.
Well-designed equipment like the ROVVER X SAT II, Ashcraft notes, truly makes a difference in day-to-day work. And he brings a mechanic's critical eye and expertise to his craft. For example, he was initially skeptical of the SAT II's innovative belt drive, which propels the push rod down lateral pipes.
"Honestly, I was surprised [SAT II] worked. I thought they were going to slip or wear out!" he says.
In fact, the MSD team has found that the belt drive reduces cost of ownership and downtime on the lateral launch systems, which experience far less wear and tear than older models with solid metal drive rollers.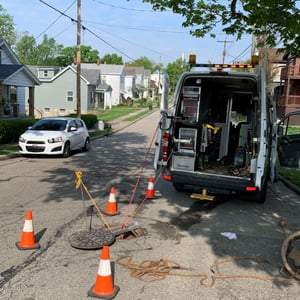 The Importance of Local Service and Support
MSD's connection with sales representative George Luce at BEST Equipment, Ashcraft says, has also made success with the new equipment possible.
"The support BEST offers for the Envirosight equipment is great. They're always willing to come in and help us out, not only on the technical side but on the operator training, too…. They're a pleasure to work with."
BEST's hands-on approach combined with MSD's new gear has helped the utility practically eliminate crew downtime—a big plus for the busy team.
Ashcraft also appreciates the support MSD receives from Envirosight, from the resources on the customer portal to free training sessions and demos. And when system operators across the country ask for his take, he's happy to share his experience: "I can honestly say I always recommend the Envirosight equipment."
Ready to experience ROVVER X for yourself? Request a free demo today.