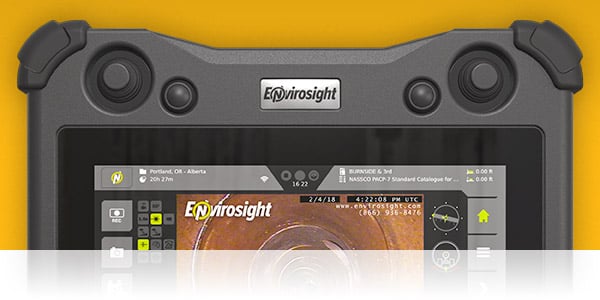 The new VC500 controller for the ROVVER X sewer inspection crawler allows for an efficient workflow. From crawler operation and video recording to observation entry and report generation, the VC500 helps ease your inspection process.
To help bring you up to speed on this new controller, Envirosight has created seven short training videos that cover everything from basic navigation to inspection, measurement and reporting. Take just twenty minutes to get a solid foundation for operating the VC500.
Need access to the videos?
Episode 1: Introduction
Get the 101 on the VC500 in episode one. This video covers how to power the system on and off; switch settings like language, date/time, and measurement units; connect to wifi; and check for updates.
Episode 2: Crawler Controls
This episode introduces you to the joysticks and touchscreen interface. Get acquainted with the controls layout, and how flyout menus give you access to every system function.
Episode 3: Status Indicators
The VC500 is capable of displaying a wealth of information about operating parameters and inspection details. Familiarize yourself with how to find this information and customize it to your needs.
Episode 4: Inspections
In this episode, we show you how to create inspections, organize them into projects, and populate them with observations using industry-standard catalogs like PACP.
Episode 5: Video Overlays
The VC500's powerful on-screen display (OSD) capabilities make it easy to create inspection video that's informative and well-branded. This episode shows how to customize data display and add a company logo.
Episode 6: Sharing
Whether you prefer printed reports or online data, sharing your inspections has never been easier. The VC500 generates PDF reports and uploads projects wirelessly to WinCan Web for instant, secure viewing on any web browser.
Episode 7: Measurement
The VC500 offers a powerful suite of measurement tools. This episode summarizes how to measure cracks, obstructions, diameter, bend angle, lateral diameter and inclination.
Final Notes
The VC500 offers much more than intuitive crawler controls and while these videos are a great starting point for getting to know the VC500, be sure to supplement your virtual training with hands-on experience.