With the Jetscan HD video nozzle, your cleaning crew can capture footage of pipe condition and stream it wirelessly to any tablet device. Simply thread Jetscan onto your jetter hose to record footage that helps
Document the effectiveness of sewer cleaning

Find offsets, collapses, infiltration and other problems without a CCTV crew

Identify cross bores, collapses, protruding taps, root balls and other operational risks

Check for gravel, grease, roots or sludge, then pick the best nozzle for the job
Without visual feedback, operators are forced to clean blindly, relying on experience, instinct and observing downstream effluent flow to determine whether a line is clean. Jetscan provides an inexpensive solution to assess pipe condition and cleaning success, eliminating repeated call-outs and diversion of costly CCTV resources.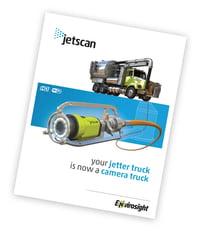 The latest Jetscan provides new features for greater ease-of-use and efficiency:
Onboard storage for hours of HD footage
An app-based interface for viewing and annotating footage
Ability to upload footage to WinCan Web for instant, secure sharing
Interchangeable, tool -free skids for lines 6-24" in diameter
Wireless charging

Learn all about Jetscan — download the brochure. And then when you're ready, schedule a free on-site demonstration to see it work in your own sewers.