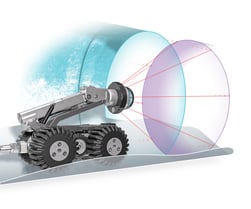 DigiSewer side-scanning add-on for ROVVER X gives inspection crews the ability to capture superior resolutions at speeds up to 70 feet/minute, without the need to stop to pan, tilt or zoom. Side-scanning uses a fish-eye digital camera to capture side wall detail, which is then digitally processed frame-by-frame to create a flat scan of the pipe whose length represents the full length of the pipe, and whose height represents the pipe's full circumference. These flat scans give engineers a comprehensive unfolded view of the pipe for quicker and more accurate assessment with smaller size files for easier data collection.
DigiSewer easily integrates with your existing ROVVER X pipe inspection system components, reducing costs and equipment clutter. With the ability to complete sewer inspections three times faster than traditional CCTV inspections, side-scanning technology will no doubt save you time and money. ROVVER X is the only inspection crawler that supports both side-scanning and traditional CCTV inspection, giving you maximum versatility for your investment.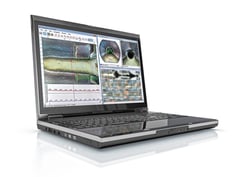 DigiSewer offers features like virtual pan/tilt, inclination graphing, joint/tap auto-recognition, PACP color-coding, and full WinCan integration. Harness the benefits of side-scanning with DigiSewer: more rapid data capture, increased data integrity, easier and more accurate review, and denser data storage on servers— all at a price point a small municipality can manage.
For more information on DigiSewer III, request your free demo now: