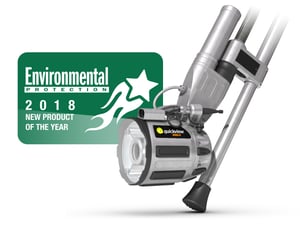 Envirosight has received Environmental Protection's 2018 New Product of the Year award for its Quickview airHD 2.0 zoom assessment camera. The Quickview was one of the highest scoring winners among a record-number of entries in the competition, which honors innovative organizations that have actively made environmental professionals' jobs easier in the previous year.
The upgraded Quickview airHD 2.0 prioritizes ease of use and accessibility with enhanced Wi-Fi capabilities, cloud connectivity and distance measurement tools. The system's camera relies on high-powered zoom optics and quad-haloptic lights to provide a clear view into sewer and storm lines, manholes, culverts, tanks and more. Infrastructure writer Fred Elliott, who served as a judge on the contest's selection committee, called the Quickview "very impressive and extremely useful for sewer inspections."
"We are honored to have the Quickview airHD 2.0 recognized as an innovative technology within the sewer inspection industry," says Richard Lindner, president of Envirosight. "The new Quickview was created for municipalities and contractors struggling to maintain deteriorating sewer infrastructure on limited budgets. This award confirms what we have heard from many of our customers—that it consistently simplifies assessments and provides them with a deeper understanding of their system-wide sewer condition."
Envirosight provides free on-site demonstrations of the new Quickview airHD. Interested?