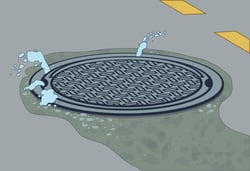 Capacity, Management, Operations and Maintenance (CMOM) programs are a best practice for collection system owners and operators. Both comprehensive and holistic, a CMOM program is an information-based program to effectively run a collection system and help lower the risk of National Pollutant Discharge Elimination System (NPDES) permit violations and discharge violations. As the EPA notes in their Asset Management for Sewer Collection System Fact Sheet: "Lacking adequate focus on operations and maintenance, many collection system utilities have slipped into a reactive mode, with most of the operational resources allocated to emergency response and rehabilitation or replacement of failed components." Instead, a proactive and even predictive approach is encouraged by following a CMOM program.
In 2005, the EPA published a guide to evaluating and structuring a Capacity, Management, Operation and Maintenance (CMOM) program. The CMOM approach is not enforced by regulatory authorities, nor is it legally binding, but can be mandated as a response to consent decrees. CMOM program documentation and subsequent audits may also be required when submitting applications for an NPDES permit. As Water & Wastes Digest reports, "the ultimate goal of the CMOM process, as it applies to the wastewater treatment industry, is to assure that discharges from treatment facilities are free from pollutants." Therefore, preventing sanitary sewer overflows (SSOs), which are illegal under the Clean Water Act (CWA), is also a priority.
Management
In a CMOM program, emphasizing all four segments equally will reap the most benefits, but the backbone of the program is the management portion. Utility optimization through CMOM programming aims to be adaptable and frequently updated, moving away from the "traditional long-interval exercises, such as master plans," according to Water Online. Therefore, it's difficult to implement a CMOM program without reviewing the internal components of managing a collection system, like organizational structure and staffing, training, and budgeting. An effective management system helps ensure that the operations and maintenance portions of the program can fully be addressed.
Operation
Collection system operation also supports reviews, standardization and transcription of activities and procedures within a department. Proper documentation allows for increased accessibility and accountability within a collection system's organization. Operators and administrators are able to identify and reflect on best practices and ensure processes are kept consistent. This information can prove invaluable in the event of an emergency.
The EPA notes that some of these responsibilities may include "monitoring discharges into the collection system from individual users; monitoring to determine the effects of SSOs on receiving waters," and recording any sampling that's done, according to its Guide for Evaluating CMOM Programs at Sanitary Sewer Collections Systems. Other operational activities include safety procedures and emergency preparedness and response programs. The EPA Guide also lists modeling and mapping under the operations umbrella. New technologies, like tracking with flow rate monitors, are making it easier to create and structure managerial and operational tasks and even automate some maintenance activities.
Maintenance
Operations and maintenance (O&M) are often grouped together because their activities are so interrelated. The goal is to keep maintenance planned, as opposed to unplanned. Efficient assets have a longer useful life and reduce the likelihood of failure, decreasing emergency response costs. The New Hampshire Department of Environmental Services describes the importance of "sewer and equipment maintenance, parts and equipment inventory, and sewer cleaning" in their overview of maintenance activities. Like other aspects of a CMOM program, establishing written protocols helps standardize procedures and provides data that can be analyzed for patterns and trends.
Capacity
Ensuring pipelines are prepared to carry the necessary capacity is a complex task. The capacity of a collection system relies on a number of variables, including the population being served, total system size and location of house laterals. A routine evaluation of capacity can be coordinated in conjunction with the other operations and maintenance activities to round out a CMOM program. Determining capacity requires both testing and inspecting, which largely focus on finding sources of inflow and infiltration (I/I). I/I is a significant contributor to SSOs and combined sewer overflows (CSOs) during wet weather events. Inspections are moving away from confined space entry methods for the safety of inspection personnel, instead opting for qualitative testing and methods that utilize CCTV inspection technology and collect comprehensive data. Rehabilitation programs are also essential to CMOM and the goals of avoiding emergency situations and staying preventative and predictive.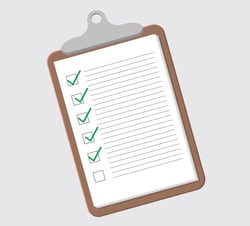 Putting It All Together
Implementing a CMOM program can be a daunting task. It's both comprehensive and complex but worth the investment of time and resources because the benefits of a CMOM program can be felt in both the short- and long-term. In the pursuit of increased efficiency a CMOM program helps collection system owners and operators identify where the system and the organization as a whole are thriving and what areas need improvement.
Thankfully, the bulk of the work in putting together a CMOM program is to codify and fine-tune existing processes within a collection system. The EPA and other government sources have released numerous resources to assist owners and operators in putting a CMOM program into action. While some are intended for evaluating an existing CMOM program, they can also be used by those starting one, as they pose thorough questions that must be addressed when implementing a program. Access extensive review checklists with the EPA guide: