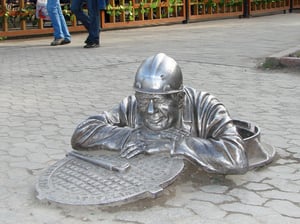 It's a fact: The American workforce is getting older. The percentage of workers over the age of 65 has been on the rise since the 1990s and is expected to peak around 9% by 2042, nearly 3 times higher than 2002 numbers. Though economists love to fret about the aging population, there are many advantages to older employees actively participating in the workforce.This is especially true for wastewater workers, who bring a wealth of expertise and experience gained on the job.
Unfortunately older employees in the workforce—regardless of industry—are often held back by a major deciding factor in career advancement: continued training. A 2008 task force on the aging of the American workforce found that workers between ages 25 and 34 averaged 37 hours of employer-provided training per year, while employees ages 55 and over averaged just 9 hours. And there's little to suggest that this has changed since. Our older employees are being forgotten.
The first step to helping older employees continue to reach their full potential is to understand why they receive less training. In the same report, researchers found that employers may not offer as many opportunities for older employees, either because of ROI concerns or due to misperceptions about ability or interest from older employees. Additionally, older employees may not take advantage of training; they may feel that managers don't support them, doubt their own abilities, believe they don't need more training, or feel threatened by younger coworkers.
In wastewater operations, many of the job duties and technologies have remained unchanged over the years, so both employers and employees may not recognize the benefits of further training. But failing to train older employees in new skills or technologies is a missed opportunity for both the organization and the employee. Investing time and energy into education will help strengthen the foundation of knowledge. Even if the changes aren't as dramatic, there's always something new learn.
The next step is to determine what will be most effective in a given organization. No matter the industry, training is critical for workers of any age. While skills take time to develop, enabling employees to perform their job duties to the best of their ability is in everyone's best interest. Training limits all sorts of risk, from physical to financial to legal, for workers and their employers.
Testing out a variety of training modifications on existing training programs will help employers reach older workers without having to reinvent the wheel. Modifications include longer sessions with small class sizes; shorter, more frequent sessions; or blended sessions that combine hands-on and online learning. An additional option for encouraging continued education is incentivizing employees to attend trade shows. Many water and wastewater industry associations host events that include educational opportunities. Encouraging employees of all ages to take advantage of these events provides a chance to learn and an often welcome change in day-to-day activities. Each approach has its limitations, but for employers, the key to training is connecting with the employee and keeping them engaged with their professional life.
Age is a sensitive topic, especially in the workplace, and research shows that older employees are being neglected in terms of training. But both employees and employers lose out when older workers aren't trained as much as their younger counterparts. Providing a variety of training methods can help target more age groups and learning styles and increase retention long term. After all, training is timeless.
For an example of two different approaches to training, check out our Phased Assessment Strategy for Sewers. Envirosight has produced both written and a webinar presentation training on the PASS program to fit a variety of learning styles.
Sources
https://www.bloomberg.com/news/articles/2017-08-08/study-finds-the-aging-of-the-u-s-workforce-is-bad-for-productivity
https://www.brookings.edu/blog/the-avenue/2017/12/07/the-future-american-workforce-will-have-a-lot-of-jobs-to-fill-particularly-in-infrastructure/
https://www.doleta.gov/reports/FINAL_Taskforce_Report_2_27_08.pdf
https://www.politico.com/agenda/story/2017/09/27/aging-government-workforce-analysis-000525
Image courtesy of Adam Jones via Flicker (CC BY-SA 2.0)