The importance of sewer system condition assessments is hard to overstate. Communities depend on sewer systems to carry waste, runoff and pollutants away to a place of final treatment or disposal. Sewer assessment programs can help us better maintain the infrastructure responsible for this—and PACP plays a big role in making sure that's done consistently.
What is PACP?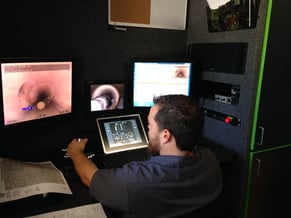 The Pipeline Assessment and Certification Program (PACP) is the predominant North American protocol for documenting inspection of wastewater pipes using closed-circuit television (CCTV) equipment, such as sewer inspection crawlers, zoom assessment cameras and push cameras. PACP was established to provide a standardized way of documenting features and defects identified during inspection. PACP gives wastewater professionals a way to classify, evaluate and manage inspection data. Since its inception, the PACP standard has been widely adopted across the United States, Canada and Latin America.
Why Do We Need PACP?
Before PACP was introduced, municipalities lacked a broadly standardized way to document sewer defects. This meant an operator's subjective judgment heavily impacted how a pipe's condition was documented and what resources were allocated to it. This subjective data made it difficult to objectively compare inspections performed by different operators at different times and locations.
The ability to objectively compare pipes is essential to prioritizing cleaning, maintenance and rehab activities, and PACP was developed with this in mind. By establishing a standard approach to wastewater condition assessment, and by defining a common set of categorizations and parameters for condition data, PACP allows accurate, objective reporting among those who work to maintain wastewater infrastructure. Moreover, it collects data in a format that is conducive to computer processing, allowing a pipe's condition to be trended over time and compared with other assets in the collection system. When combined with increasingly sophisticated computer analytics, PACP standardization greatly enhances the insight municipalities gain about their own infrastructure, and allows the algorithmic generation of maintenance strategies that most effectively minimize risk and maximize return on investment. With PACP, the wastewater industry now has a common defect coding practice, which yields data that is more uniform, easily shareable, and most importantly, conducive to computer analysis.
What Does PACP Document?
PACP organizes defects into four categories:
Structural. Defects where the pipe is damaged or otherwise defective.
Operation and Maintenance. Foreign objects found in pipes that may interfere with the operation of the conveyance system.
Construction. Features and conditions associated with the methods used to construct and connect to pipes.
Miscellaneous. General features and defects that are not described by or included in other categories.
After assigning a specific defect code and entering qualifying parameters, the operator will assign a condition grade to each defect. Wastewater utilities can use this grading system to perform a system-wide risk assessment and determine likelihood of failure, consequence of failure and make the best use of their capital budgets for improvements.
Who Developed PACP and How Do I Get Certified?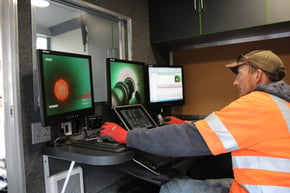 PACP was developed by the National Association of Sewer Services Companies (NASSCO) with assistance from the Water Research Centre in the U.K. NASSCO was formed in 1976 with the mission of providing education, technical resources and advocacy to the wastewater industry, and to help pipeline inspection and rehab professionals be more effective. As part of that mission, in 2001 NASSCO developed PACP and now oversees the certification program.
Prior to taking the PACP exam, wastewater professionals will need to participate in a two-day course where they will learn the standardized defect coding program. Becoming PACP certified is a prerequisite for the Manhole Assessment Certification Program (MACP) and the Lateral Assessment Certification Program (LACP). Individuals who are PACP-certified will have their name and certification numbers entered into a database managed by NASSCO and will be noted on www.nassco.org. Click here to find a class.
---
For more on the benefits of PACP, download our free white paper, "5 Things You're Missing without PACP."