Cross bores are unintended intersections of utility lines. They can occur when a new natural gas line is installed using trenchless methods and intersects an existing underground lateral sewer connection. A sewer lateral is the underground pipe that connects a residence or business to a main sewer line, which is a large-diameter pipe that channels waste from every lateral to a wastewater processing facility.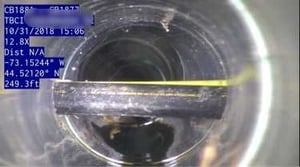 If a cross bore is present but is not detected, it can cause backups in the sewer lateral or damage the structural integrity of a pipe. If a drain cleaner or wastewater professional is unaware of the intersecting gas line and attempts to drill through one of these blockages, they can cause severe, even deadly, explosions. Taking measures to prevent gas line cross bores is crucial to minimize the risk of property damage, injury and even death.
Sewer Lateral Inspection
Avoiding cross bores can be as simple as conducting a sewer lateral inspection before and/or after a new gas line is installed. A remote-controlled sewer crawler equipped with a camera can provide a detailed view of a pipe interior to inspect for both new construction and legacy cross bores. With the right system, the operator can easily navigate the crawler through the mainline and launch a camera head up adjoining laterals. Most systems allow users to view the pipe in real time, so they can identify existing cross bores and prevent future ones.
New Construction Cross Bore Inspection
Cross bore inspection services are required by construction companies and gas utilities whenever there is new construction. Most inspections require pre- and post-construction inspections to ensure safe trenchless installation. Pre-construction inspection involves mapping underground utility pipes at a proposed build or installation site. Identifying the location of sewer laterals and other utility lines reduces the danger of cross bores when installing new gas lines. Post-construction inspections are conducted to verify that no cross bores were created, ensuring that sewers and laterals were not damaged during construction.
Legacy Cross Bore Inspection
Unlike new construction cross bore inspection—which helps prevent new cross bores from occurring—legacy cross bore inspections help identify existing cross bores. Gas line installation requirements have evolved to be more stringent over the years, but undetected legacy cross bores may still be present. These legacy cross bores are not only susceptible to explosions when a home or business has a plugged sewer, but can also cause structural damage to sewer lines, leading to sinkholes, infiltration and exfiltration, and voids.
Begin a Project Safely
Although there is typically very little excavation necessary, "digging" is still part of trenchless methods. Therefore, it's important to call 811 a few days before the project to help identify the approximate location of underground utilities.

Each state has its own 811 call center. A call center representative will record digging plans and notify appropriate utility companies to mark buried lines so that the project can begin safely.
Cross bores prevention requires specialized tools. The ROVVER X SAT II lateral launch lets you inspect laterals from a mainline, and is ideal for finding dangerous gas line cross bores and illicit flow. Inspect where other lateral launch systems can't. Learn more about the ROVVER X SAT II today: