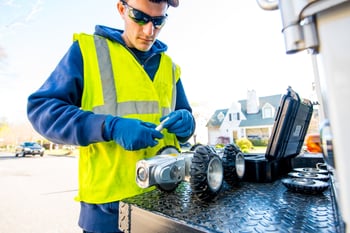 Deciding whether to rent, lease or buy sewer inspection equipment is rarely simple. Whether you're a municipality or a contractor, the decision can heavily impact your bottom line, how you do business and your growth opportunities.
A wide range of considerations impact the decision, such as:
Is the equipment essential to your business?
What are your available financial resources?
How heavily will you use the equipment?
What specific features do you require?
Have you planned for necessary maintenance and service?
Have you anticipated total cost-of-acquisition? (Service, maintenance, interest payments, storage, service life, etc.)
Short-term equipment rental can cut costs and boost productivity—particularly when you need capability on a per-job basis, or when you want to try out a new service offering. Leasing frees up capital. Buying requires capital up-front, but can be the most economical option long-term.
"Sewer Cameras: Rent, Lease or Buy?," a new white paper from Envirosight, offers an in-depth look at each option. The paper will guide you toward making the decision best suited to your particular needs.