Working long days to keep the sewer mains clean and running has become a tradition for one Southern California family. Their company, Houston & Harris, first opened its doors 31 years ago by offering services for underground inspection and cleaning. And while many things have changed over three decades of business—including new technologies to complete the work—its core mission and family-centric character have remained the same.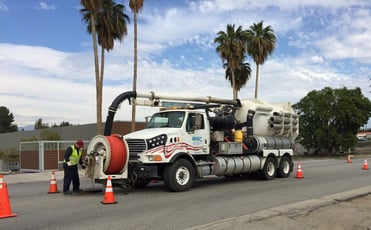 Today, Brad Houston, operations assistant, works alongside his dad, Larry Houston, operations manager. Larry's late father helped found the business in June of 1988; the Houston's later bought the entirety of the company outright. Tasked with servicing the counties of San Diego, Los Angeles, Riverside-San Bernardino, Santa Barbara-Ventura and Orange County, the Houstons never struggle to stay busy.
Driving Success
It's the long-term experience that keeps the company successful, Brad says.
"Customers turn to us to figure out a solution to a problem that is maybe out of the traditional use of what we have," he says. "How can we use our skillset and our 31 years of experience to find another angle? I think that's what sets us apart a little bit, is that our operators have a lot of longevity. We have people who have been with us for 20 plus years."
Some of their most exciting projects include inspecting a long-distance conduit through a suspension bridge and videoing a T-shaped line in a dam with 90-degree bends.
The Houston & Harris team uses its equipment to solve issues that some competitors might not be able to handle, Brad says. While its team relies on decades of experience, Houston & Harris has made modernizing its equipment a priority, investing in gear that will keep business moving forward.
Progressing with Equipment
The company first began using Envirosight products, including the SuperVision inspection camera and lateral launch, more than six years ago. Since, Houston & Harris has depended on the ROVVER X, the ROVVER X SAT lateral launch, QuickView, VeriSight Pro, and more to complete inspections across southern California. Time and again, the company has made the decision to reinvest in the equipment—first introduced to them by Envirosight's regional sales partner, Haaker Equipment—that has been serving their needs so well.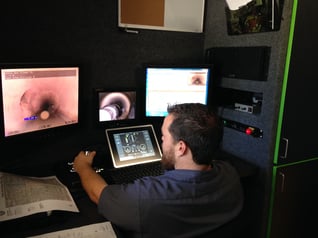 "Our experience with Haaker has always been good, and that's why we initially went with Envirosight—because of Haaker and the service they provide," Brad Houston notes. "We find with the Envirosight stuff it just performs at a higher level. We find ourselves using that [equipment] in situations where the other equipment is just not capable: tight access, radiuses, small pipe with radius."
Beyond inspections, the company is equipped with a hydro-jetting truck for dry and wet wells, storm drains, sewer lines, lift stations and more.
Serving Unique Needs
The company's trucks are used to service clients daily—both contractors and municipalities—across varying terrain, including the mountainous areas of the region, often with unique needs and obstacles along the way. "Usually when a mountain [service] pops up, we have our hands in it in some fashion," Brad says. "[Our operator] being able to manipulate the equipment to do exactly what he wants it to do is kind of a blessing."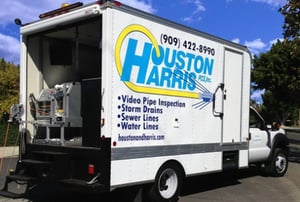 Surrounded by nationally-owned companies in the region, Larry Houston says the company's "mom and pop" feel and solutions-based attitude is unique.
"We like to try and find solutions to whatever their problems are," Larry says. "Everyone's got a little bit of a different problem and I think we pride ourselves on being able to come up with a solution to get whatever they need done, done."
Learn more about the ROVVER X: