Connecticut-based Savy & Sons was growing, and the contractor needed new sewer assessment equipment. It was running a popular brand's crawlers, but had a longstanding partnership with PRT, Envirosight's sister company in rehab equipment, which introduced the team to the ROVVER X sewer inspection crawler.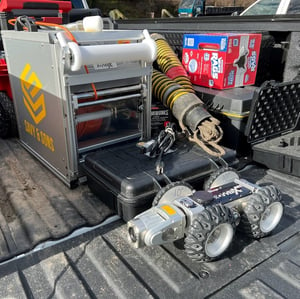 Travis Savy, technical director of Savy & Sons' pipelining division, was impressed: "We saw what it was made of…. We realized we wanted to own ROVVER X because of the unique, advanced features that it offers."
Capabilities such as ROVVER X's backup camera, touchscreen controls, ability to measure pipe diameter, and the crawler's agility when snaking through difficult bends were major selling points for Savy. The team went on to purchase a ROVVER X and a small diameter RX 95 unit.
Making the change to a new crawler brand, however, required Savy to push outside his comfort zone.
"I had some reservations about looking at [ROVVER X] because of the other equipment we were using at the time," Savy admits. "I was biased, but I'm glad that I got out of my comfort zone and looked at the equipment, because so far we've absolutely loved it. We wish we'd done this sooner."
And Savy & Sons' operators have become fast fans of the new gear: "ROVVER X is all they want to use."
A Family Tradition
When Travis and Ralph Savy's grandfather started a masonry business in 1960, he likely had no idea his company would still be flourishing 60 years later. Today that company is known as Savy & Sons, a contractor specializing in wastewater and infrastructure rehabilitation, epoxy coatings and linings, waterproofing, media blasting, pipelining services and more. The contractor follows a "service first" approach, representing its dedication to its customers' satisfaction.
Travis Savy explains that the family-owned-and-operated business shifted to underground infrastructure services during the 2008 recession, as infrastructure offered more steady work during uncertain times.
"We started saying yes to things we used to say no to. We then realized we love underground infrastructure—we're truly passionate about it," Savy explains.
Today, Savy & Sons works primarily with commercial industrial clients, but its team also supports municipalities, nuclear plants and engineering companies. The busy contractor does it all: emergency callouts, regular assessments and exploratory inspections. The team's hard work has paid off; Savy & Sons works all over the country and is experiencing continuous growth.
Gearing Up for Infrastructure Work
Envirosight equipment has become an important part of that growth. Despite his initial reservations, Savy concludes, "I do recommend ROVVER X."
And his customers agree. "Our customers absolutely love it because of what we can provide them with. Nothing else has done that before."
The compact design of the ROVVER X system, which weighs less than their other systems, was initially a surprise. But the team found that less weight does not mean lightweight.
"With 6 wheel drive," Savy explains, "it gains more traction and goes farther."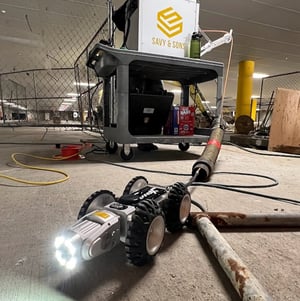 ROVVER X's compact but powerful build has performed in unexpected ways, too. The very first job the team used their new ROVVER X for was an inspection of a 12" cooling tower supply-and-return line system. The contractor had struggled to get through the pipe–which was 800' long and had several difficult 90-degree bends–with its older equipment. At first, they feared the ROVVER X would fail as well. But even when the system flipped in the line, which was experiencing heavy flow, the pros at Savy & Sons were able to steer using the lift for traction. The maneuver falls well outside of manufacturer recommendations, but ROVVER X pulled it off.
"There was not so much as a scuff on it," adds Savy.
Savy also appreciates that his crew can use ROVVER X for everything from running inspections at a nuclear power plant to inspecting mainlines for a local municipality to assessing roof drains. The equipment's "unique versatility" helps ensure that the Savy & Sons team succeeds, even at their most difficult jobs.
Savy & Sons has found success with the agile and versatile ROVVER X. Ready to see it in action for yourself? Connect with one of our sales pros: