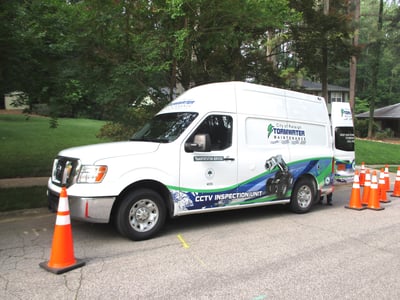 A preventative maintenance program for sewer inspection equipment is the first step a municipality should take to maximize uptime and equipment longevity. Raleigh's Department of Transportation, Stormwater Maintenance Unit (SMU) can attest to this. "We inspect 60,000 linear feet of pipe annually with our Quickview zoom camera and ROVVER X sewer camera," says Don Hickman, CCTV Operations Crew Supervisor. Their ROVVER X system has been in service since early 2014. To this day, members of the community congratulate the crew on their new truck. "It is so gratifying to tell curious community members that our truck and equipment has been in service since 2014 and is on the road nearly every day. You can see the level of respect we gain in their eyes—so many municipal workers get a bad rap for not caring about taxpayers' investments."
Raleigh manages over 500 miles of stormwater infrastructure and uses their equipment heavily. In March 2013, the crew was ready to upgrade their older-generation ROVVER 125 system. "After six years of daily service, the electric motor was losing torque and the frequency of service was increasing," says Jason Moon, Program Manager at Raleigh DOT's SMU. "While the system was still outperforming the newer camera systems used by our Public Utilities Department, we were expanding our inspection program and needed a system to help realize our long-term goals." The SMU had a positive experience with their ROVVER 125 and appreciated that it was designed to facilitate preventative maintenance. "The decision to go with ROVVER X was very clear to us from the start."
Like other municipalities, Moon had to prepare for budget approval before he could purchase a new unit. "Confidence in our capabilities, and in the reliability of the equipment and manufacturer, made obtaining funding much easier than we expected. Our track record for preventative maintenance helped prove to the purchasing division that the upgrade was going to be cared for and utilized to its fullest potential."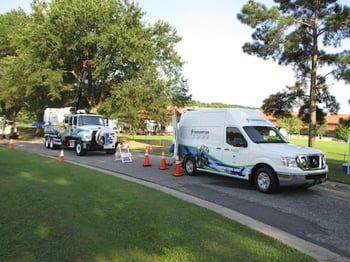 Since getting the ROVVER X, Raleigh's inspection responsibilities have significantly increased. Now, apart from their day-to-day inspection workload, the crew is also responsible for investigative work such as examining sinkhole causes, locating buried assets, updating asset maps, and performing pre-acceptance, post-rehab and post-maintenance inspections. Preventative maintenance helps ensure uptime and longevity of their equipment. "We can either let the crawler deteriorate to the point of failure because of the harsh environment it works in, or we can be proactive and work to maintain our equipment in order to maximize our uptime," says Hickman. The crew says their secret is they recognize the crawler as a valuable team member, just like anyone else in the crew. "The first thing we did when we bought the truck was to get graphics put on it," says Moon. "The truck is the flagship for our unit and creates a positive image for us whenever we take it out. Every time members from another agency or the community compliments our equipment, it reminds us why we work hard to maintain it."
Raleigh has a comprehensive maintenance routine. Every day, system pressure is checked. At the end of the day, all equipment is cleaned before it is placed back in the truck. Every Friday, the crew performs the following weekly maintenance:
The crawler is disassembled into individual components (camera, lift, wheels, spacers and screws), which are then scrubbed with toothbrushes and soapy water.
Old lubrication is cleaned off and new lubrication applied.
Cotton swabs are used to remove caked dirt from inside the spacers. Then the spacers are thoroughly cleaned with soapy water to remove external deposits.
Screw holes are cleaned with cotton swabs to ensure no sand or silt is present. Then they are filled with two drops of lubricant to help push out any moisture.
All components are then stored in a tool box.
The cable is cleaned with soapy water and rewound to ensure no tangles.
The reel's drip tray is wiped down and its window cleaned.
The truck floor is swept, every surface on the truck is wiped down and the windows are cleaned.

Raleigh's crew also performs a semi-annual leak test on the crawler, where they submerge it in a pool of soapy water. Each component is then cleaned and sanitized. Additionally, they wax their truck, clean out their tool box drawers and dust inside the computer.
"We have very little downtime with our equipment," says Hickman. "When you perform weekly preventative maintenance, you become very familiar with it. The crew recognizes any issue before it becomes a big problem." For example, Raleigh's crew is in the habit of wiping down the cable as it is rewound, looking for any damage. "We hear horror stories of catastrophic failure when a crawler is 500 feet into a pipe. That type of failure is completely avoidable. We reterminate damaged cables before they become problematic."
"It also helps that ROVVER X is particularly easy to maintain," says Hickman. "Design attributes like easy wheel removal and quarter turn locks for components make maintaining the system simple and quick. Also, having a crawler that is lightweight makes caring for it less arduous because crew members can move it around without breaking their backs." The SMU can also rely on their local Envirosight sales dealer, Public Works Equipment and Supply, for parts and advice on quick repairs.
When asked what advice he can give to other municipalities looking to start a preventative maintenance program, Don Hickman advises using a maintenance logbook and following a plan. "We all have busy days, but don't let a busy day become an excuse. Schedule time for preventative maintenance and make it a priority. Ask yourself, how much does crawler downtime cost? Does it cost more than 60 minutes per week of preventative maintenance?"
Want to start your own preventative maintenance program? Request a FREE Crawler Maintenance Logbook. This logbook is suitable for all brands of sewer crawler and makes it easy to document damage and enforce accountability for cleaning and maintenance. Request yours today: