You never know what you'll encounter when inspecting sewers, but ROVVER X's quick-change design ensures you can rapidly adapt to any challenge.

Without tools, you can quickly reconfigure the ROVVER X crawler with any of 10 available wheel sets.
Rubber: 6" • 8" • 10-18" • 15-36" • 24-60"
Abrasive: 6" • 8" • 10-18"
Grit: 6" • 8" • 10-18"
Likewise, accessories such as a camera lift, auxiliary lamps, and a lift carriage also install with no tools, so you can deploy the capability you need effortlessly in every sewer line. Check out the full lineup of components in this downloadable poster: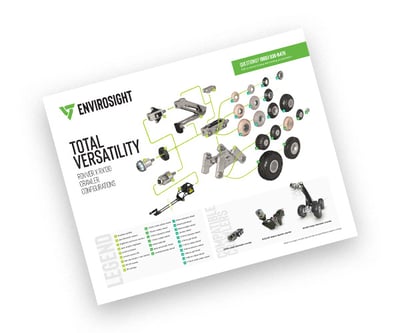 Ultimately, quick-change design means you can perform all your work with a single system, keeping costs and overhead low while having the confidence to deal with any situation. And working without tools means you can be more productive at each manhole, minimize exposure to traffic and other safety hazards, and gain a more comprehensive understanding of your collection system.
Inspect any line from 6" diameter up to 60" and larger, regardless of whether it's cement, PVC, lined, clay or cast iron. Push past grease, sediment, debris and other obstacles to complete more sections. See how with a free on-site test drive of the ROVVER X: