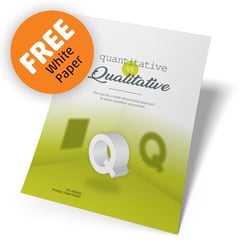 Pipeline inspection can be performed in a variety of ways, with a range of tools and equipment. When many different companies and manufacturers are promoting their brands, even seasoned pros can struggle to find the tools, methods and equipment that best fit their needs.
In order to provide some guidance, we're pleased to share the expertise of Eric Sullivan, Principal of Sewer Knowledge, who specializes in sewer infrastructure assessment and CIPP technologies. His research explores the two main methods of data collection, quantitative and qualitative, and analyzes an example of each.
Qualitative data provides a multi-dimensional (and ultimately more thorough) sewer condition assessment, whereas quantitative data simply tracks individual data points without context. Acquiring complex information from a qualitative inspection method provides context and a solid basis for action.
Though quantitative inspection has an important role, it serves the inspection workflow best as a component of qualitative inspections—a piece of a larger process. The comprehensive story qualitative data tells can reduce inefficiency and allow sewer maintenance professionals, municipalities and engineers to take informed action. This white paper is part of Envirosight's continuing commitment to providing resources that benefit the wastewater industry. Learn more by downloading the white paper now: