Quality Pipe Cleaning Co. was already in the market for a new sewer inspection crawler that would offer more capability. So when the company secured a long-term contract with a municipality that was using equipment they had been eyeing, the decision became an easy one.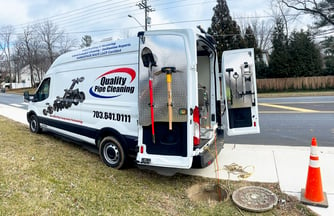 "We knew having the same technology by purchasing the ROVVER X sewer inspection crawler would make for a smooth transition and would create a seamless workflow all around," says Eric Tyler, VP of Quality Pipe Cleaning Co. "Because the Envirosight crawler system already has WinCan built in, the data we collect could be uploaded straight to the municipality's software database."
But it wasn't just this discovery that sold the contracting company on the equipment, Tyler says.
Seeking Out New Inspection Equipment
The northern Virginia-based team saw the ROVVER X at the WWETT show in Indianapolis in 2020 and was impressed by the ease of use it demonstrated. Moreover, it offered the specific capabilities they were looking for in a new system.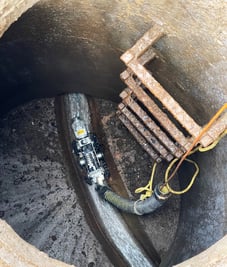 "We needed a crawler that was capable of inspecting pipes as small as 4 inch," Tyler says. "Virginia Department of Transportation (VDOT) updated its regulations to require the entirety of a pipe to be inspected, and no other crawler in the market can travel the 500 feet of distance we need in a 4-inch pipe."
The ROVVER X crawler, which the company recently had built out into a new inspection van, also allowed them to perform long-distance under-drain and conduit pipe inspections, he says.
"For under-drain inspections, our production levels have doubled since," Tyler says. "The guys were previously going out with push cameras and inspecting 1,000 feet of pipe in a shift—now they're getting 2,500-2,700."
Steady Company Growth
Quality Pipe Cleaning Co., which provides a wide variety of underground utility services, has come a long way since owner Thomas Buchwald first opened for business in 1990.
"At the beginning, it was just Tom running a vac truck," says Tyler. "He had his briefcase-sized cell phone and a notepad and he was running the one-man show."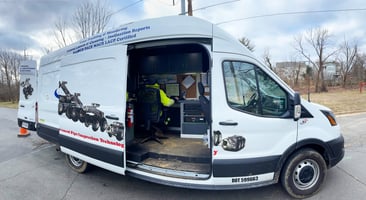 Today, the company has 41 employees, 11 vac trucks and five CCTV vans. And even with the uncertainty 2020 brought due to the COVID-19 pandemic, Quality Pipe Cleaning had its best year to date.
"Although it's been a rough year for everybody, we actually had a great year business-wise and are continuing to grow our team," he says. "It's a standout group of people here. Despite crazy times, we're getting through it."
Tyler credits much of the company's success over the years to its "turnkey operation" motto.
"We try to get every job done 100% without using subs or having to buy or rent additional equipment for it," he says. "Whether the job requires cutting concrete out of the pipe or setting up full traffic control, we have every piece of equipment we need for it. When a customer calls and says what they need done, we are able to do it all so they don't have to worry about calling four different people to finish the job."
Tackling Precarious Jobs with Ease
Recently, Quality Pipe was called out to assist with a major potential disruption following a construction mistake under a busy road in the area.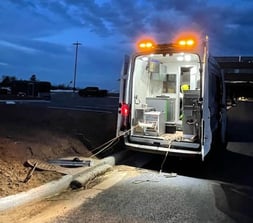 "Route 66 is a major 26-mile road coming into D.C. that is currently being widened two lanes each way," Tyler explains. "There's a sanitary line that runs underneath it, and a company came in and drilled a huge hole through the pipe. The municipality didn't know what they were going to do because it handles all of the sanitary waste from the westbound side of 66 to the eastbound side.
"Everybody and anybody was on site because the last thing they were going to do was dig up 66 and shut down six lanes of traffic," he says. "We used the ROVVER X crawler and Quick-Lock point repair sleeves from PRT to band a new section of pipe onto the damaged section. It was pretty crazy, but everything went really smoothly and we successfully repaired the pipe."
Jobs like this one are only possible with the right technology, Tyler says.
Local Service and Support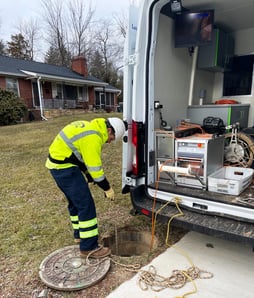 The team at Quality Pipe serves customers big and small across a generous area: as far north as Baltimore, MD, all the way down to Richmond, VA, into West Virginia, and to the eastern shore. The company's large footprint requires quite a bit of travel, so having local support from its Envirosight dealer has been a game changer, Tyler says.
"That's another one of the reasons we initially looked into getting Envirosight equipment—Infrastructure Solutions Group (ISG) is essentially in our backyard," he says. "The team there is phenomenal, especially Luke Kahelski who initially sold us on the ROVVER X. We don't need to ship equipment overseas if an issue arises, we have someone right here to help us. Having a good dealer like ISG nearby is a great thing for us as we continue to evolve and expand into new markets."
---
The versatile ROVVER X sewer inspection crawler is available in three crawler body sizes to address applications from 4 to 96 inches diameter. To learn more, request a free on-site demo today: