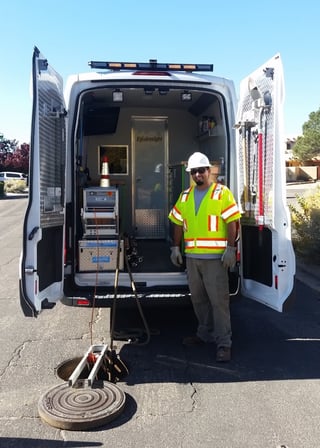 No doubt, sewer inspection gives municipalities a wealth of information, from what defects exist in pipes, to the presence of inflow and infiltration; from pipe rehabilitation needs, to the general condition of underground infrastructure. However, the City of Santa Fe's Wastewater Management Division takes the investigative powers of their ROVVER X sewer inspection camera a step further by performing quality control.
The City of Santa Fe's sewer collection system has approximately 9,000 manholes and 360 miles of sewer pipe—some dating back to 1919. "As the City's sewer collection system ages, the need for sewer line rehabilitation and replacement increases," says Jerry Tapia, Wastewater Collection Manager. "Just this year we've spent $1.5 million on the rehabilitation of our large diameter pipes." The City's officials have also budgeted another $2 million per year to be spent on rehabilitation projects over the course of the next two years.
"It is crucial for us to be able to validate the work performed by our rehabilitation contractors," say Tapia. "We've been able to find issues with newly rehabbed pipes before they cause catastrophic damage. We simply deploy our ROVVER X before signing off on rehabilitation projects to see if the work performed is satisfactory." The City's crew also uses their crawler to check in on progress as rehabilitation projects are unfolding to see if there are issues that can be addressed preemptively.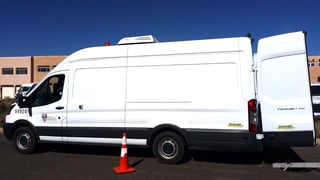 Quality control isn't just important to rehabilitation projects; it's needed for sewer maintenance. "Many sewer inspection crews focus on finding structural defects; our approach differs," says Tapia. "The main cause of sewer stoppages is from roots, grease and debris, while only a small percent can be attributed to structural defects. Our cleaning crews are immediately followed by an inspection crew that not only inspects for structural defects within the pipe, but also ensures that it has been adequately cleaned." This practice has been proven effective by the reduction in emergency call-outs the City answers.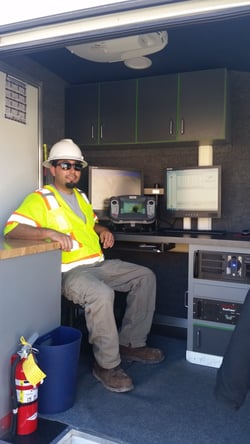 It is no secret that Santa Fe's Wastewater Management Division relies heavily on their sewer inspection crawler. In 2016, they were in the market for a new system that could keep up with their growing inspection needs. "One attribute was high on our list—reliability," say Tapia. "Our old system experienced a lot of downtime. In fact, it needed a lot of repairs and became labor intensive after just 6-9 months of owning it." After Envirosight's demonstration and positive feedback from neighboring municipalities, the Santa Fe decided to purchase a ROVVER X sewer inspection crawler. "We were especially impressed by ROVVER X's modular design and the option to add side-scanning capability in the future."
"Not only has our ROVVER X been able to keep up with our sewer inspection needs, but it is constantly in the field performing post-repair, -cleaning and –rehabilitation quality control," says Tapia. "Within the first year we experienced a 20% increase in our productivity; this year we anticipate it to be even higher." Tapia attributes the productivity increase to ROVVER X's user-friendly design. "We are able to train new operators to use the system within four hours. Also, the ROVVER X is lighter and more portable than any other system we've seen. The fact that we can pull the system out of the van and move it around in an ATV or pickup truck makes it easier to complete quality control inspections in areas that are inaccessible to our inspection van."
To learn more about the Santa Fe's Wastewater Management Division visit: https://www.santafenm.gov/wastewater_division. To learn more about ROVVER X and to request a free on-site demonstration visit: