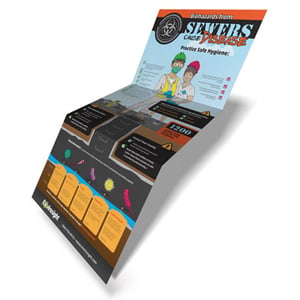 Biohazards are everywhere, in every handshake, sneeze and door handle. What matters isn't where they are, but how you protect yourself against them. For the average person, regular hand-washing and up-to-date vaccinations are ample protection. But, much like people working in hospitals and medical labs, those who work in and around sewers are at an increased risk of infection and disease from biohazard exposure. And, much like doctors and nurses take extra care to limit that exposure, so should wastewater workers take similar precautions.
The biggest step you can take to protect your health is to use adequate personal protective equipment (PPE). The better your PPE, the less likely you are to contract a disease or infection from sewage. The items you need when working around sewers are:
Gloves: These keep bacteria and viruses off your skin, and they also protect your skin from abrasions, which are a path for infection.

Boots: These protect your feet and lower legs from contact with biohazards, and are to be left at work so bacteria isn't tracked into your home or personal vehicle.

Safety Glasses or Face Shield: These protect your eyes from contact with biohazards via splashes and sprays.

Respirator: This filters out airborne toxins, as well as splashes and sprays.

Coveralls: These protect you and your clothing from contact with biohazards.
While this equipment helps protect sewer workers from exposure to biohazards, it only works if it is used properly and consistently. That's why Envirosight has created a Sewer Health and Hygiene poster. It illustrates how to safeguard yourself with PPE, proper hygiene and clean-up practices, and recommended vaccinations. Request your FREE copy: