Ground Penetrating Radar Systems (GPRS) started like most construction service companies: relatively small, based out of a single region, providing services just to customers within reach, and with high hopes of growing over time.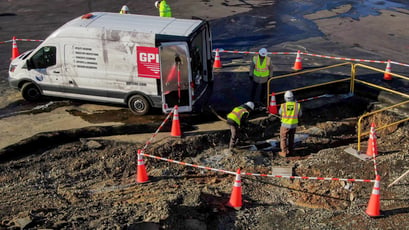 They certainly turned their hopes into a reality over the past two decades, burgeoning into a nationwide company, with offices in every major market across the U.S. And along with an expanded footprint has come added services, something GPRS says has been done strategically, and has contributed to its overall success.
As the name suggests, GPRS started as a concrete scanning company using GPR in 2001, focusing primarily on the markets in Toledo, OH and Detroit, MI. Roughly 5 years after its inception, the company began offering utility locating services to boost its capabilities. Seeing an opening in the market and demand for its services nationwide, owner Matt Aston decided to take a leap of faith and start expanding horizontally across the U.S.
"This was a make-it-or-break-it turning point for GPRS,'" says Jason Schaff, company VP of sales and marketing, regarding Aston's decision.
And so it began its horizontal growth by opening offices in Dallas, Los Angeles, Denver, Washington, D.C., Charlotte, Orlando and Chicago. Today GPRS has more than 400 employees. The company completed 70,000 individual projects from coast to coast in 2019, with an accuracy rate of over 99%.
Strategic Growth
The vertical growth of GPRS has happened both organically, as well as systematically, as the company acquired several smaller companies over the years to reach into existing markets and offer additional services.
Early in 2018, GPRS acquired Encompass Inspections based out of Phoenix, AZ; Structural Radar Imaging out of Seattle, WA; and National GPR Service out of Minneapolis, MN. And a year later, it acquired Master Locators out of Pennsylvania. These acquisitions led GPRS into the world of video pipe inspection services (VPI), allowing crews to do more and find more for its customers, says Schaff.
With each new service the company has added over the past 20 years, it takes the same strategic approach implementing it, Schaff says. GPRS first conservatively purchases equipment and hires and trains crews in the cities it sees the greatest demand. From there, it expands into new markets where it finds enough requests for the service.
Establishing Video Pipe Inspection Services
Over the past year, growing its VPI services has been a major focus for GPRS as it works toward adding these capabilities, and equipment, to each location already offering GPR locating. But this time around, GPRS didn't need to search the market for the right equipment to get the new service up and running.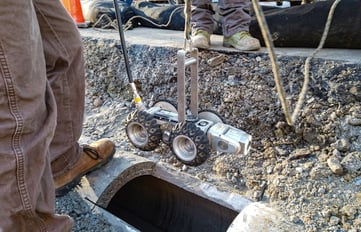 Before the acquisition, Master Locators had been relying on Envirosight equipment for years, with 3 ROVVER X mainline crawlers and one ROVVER X SAT lateral launch system in its fleet. It was equipment the company could already trust, and the crew at GPRS was quickly pleased with its performance level and capabilities. Since, GPRS has purchased more and more trucks equipped with the ROVVER X inspection crawler, placing them in cities across the US, including New York, Philadelphia, Boston, Atlanta, Chicago, Houston, Toledo, Indianapolis and in southern California.
"We are strategically placing them across the U.S., and then as the jobs come in, whichever city is closest, we'll just travel to the job with the equipment," says Richard Byrne, VPI area manager for eastern U.S. "Once we see enough requests coming in from a certain area, we then consider adding another vehicle in that location. So we either move a truck, or purchase a truck."
"We will make whichever decision will best service our client," Schaff says.
Broadening Capabilities
With experience using other inspection equipment in the past, Byrne says Envirosight has proven to be a superior fit for GPRS's needs.
"I find Envirosight's equipment to be much better for what we do," he says. "Equipment I've used previously didn't give us the option to take it out of the truck and be portable with it. With Envirosight, it's user-friendly and very portable to take out and locate and inspect sewer lines that may be running through wooded areas, or in areas where you don't have access to pull a vehicle up to."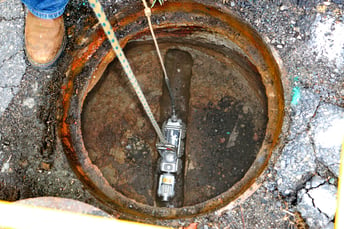 VPI manager for the western U.S., Kyle Humphreys, echoes the sentiment that using Envirosight's equipment for VPI services has allowed the crew to deliver at the high level they like to achieve.
"I love the Envirosight systems," Humphreys says. "I've rented another system in the past and it just didn't even compare. I like it for the functionality and ease of use. The overall quality of the system is great, not only the video, but also the equipment itself.
Along with that is the deliverable we are able to provide our customer with because of the equipment. I think all of those combined made the choice to stick with Envirosight an easy one."
Exceeding Expectations
There are several standout equipment features that have given a company the size of GPRS a reason to continue investing in Envirosight: portability and regional support and service.
Being able to go portable with the equipment has allowed GPRS to take on diverse jobs its competitors can't, say both Humphreys and Byrne.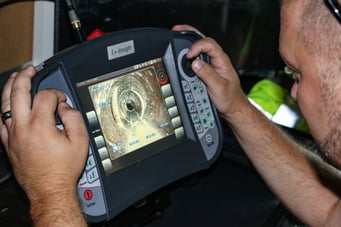 "Our goal is to go above and beyond to meet customer needs," Humphreys says. "For example, I'm out on a job right now in the middle of the woods in Texas that our competitors couldn't do because they've got big trucks and can't get their equipment out there. We rented a Jeep, put our equipment in the back and are trekking through mud to get to these manholes. Currently we are inspecting about 17,000 linear feet for this part of the project. We did about 10,000 prior to this for the same customer and we got called back because no one else can do this. We did it in a timely manner and the customer was really pleased with the deliverable."
Similarly, Byrne and his crew were called to a job to inspect the sanitary lines on Fire Island in New York.
"We put our inspection equipment on a golf cart with a generator and took the ferry across to the island to inspect the island's lines, which needless to say were not in good shape being underwater," he says.
Without the option to go portable with the equipment, GPRS wouldn't be able to complete the number of jobs they do and take on the more unique ones competitors are challenged with.
Along with portability, the regional support and service from Envirosight has been crucial to a company that provides service all over the country, says Schaff. The crews rely on Envirosight's sales partners, including Haaker Equipment, Green Equipment and A&H Equipment to provide support and service to maximize uptime.
Standing Out From the Competition
Beyond its far-reaching net, there are several factors that GPRS believes make it unique in the industry, and have contributed to its success, including using an ownership model with its staff.
"We call our technicians project managers," says Schaff. "Each project manager is responsible for sales, proposals, completing the job and delivering the report. We call them project managers because we find value for our clients when the technician is able to take a consultative approach. They're able to answer the call, qualify questions, write a proposal and take them through the actual project with a site-walk. We feel like we're giving something that the industry doesn't offer and that's a complete package with the service while communicating with one person. Each project manager is running their own little business for that market."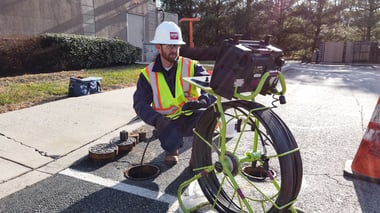 The other factor that helps GPRS stand out from its competitors is its deliverable using WinCan software, says Humphreys.
"Our deliverable is top-notch," he says. "I've seen some from other companies and our reports are just top-notch. Customers love the deliverable that we hand to them and the customer service they receive. We prioritize taking care of our customers."
That commitment level has helped GPRS grow organically, oftentimes finding that simply word of mouth has helped the company generate more and more new customers across the country. And being able to combine services, like GPR and VPI, helps the crew provide its customers with more information than its competitors could during a single job.
"We can combine different services to give our customers a really detailed deliverable," Schaff says. "We can map out their whole sewer or pipe system just based on the tools we have."
Reaching Farther
Like other sectors of the company, GPRS plans to continue developing its VPI services by moving horizontally into every major market, based on the needs it sees.
"We'll dictate our growth based on the existing systems we have in place now," Schaff says. "Where are we traveling to the most? Where are we getting the most phone calls? How can we best service our clients and satisfy demands? But our plan is to more aggressively grow on this vertical path than we did with other services. We aren't going to wait, we are going to act. Nationally, there's a big opportunity for someone like us to come in and create a name in this industry and we are glad to have Envirosight as part of the team."


Interested in learning more about the ROVVER X sewer inspection crawler with a free on-site demo? Schedule yours today: