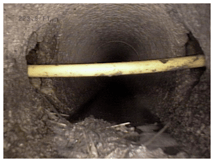 A cross bore occurs when a new natural gas line is installed using trenchless methods and intersects an existing underground lateral sewer connection. If not immediately identified, a gas-line cross bore can go undetected until it causes a backup in the sewer lateral. At that point, the resident will summon a plumber, whose attempts to clear the lateral may cause the gas line to rupture. When that happens, the escaping gas can accumulate in the adjoining residence and cause an explosion. This scenario can be avoided with a sewer lateral launch inspection wherever a new gas line is installed. According to the Gas Technology Institute there have been 18 accidents resulting from cross bores from 2002 to 2015—a number that the Cross Bores Safety Association says is more likely an understatement (source).
There are two types of cross bore inspection programs: new construction and legacy.
Construction companies and gas utilities require cross bore inspection services to map the utility pipes underground and mitigate cross bore risk when installing new gas lines. Essentially, construction engineers need to know the precise location of sewer laterals and other utility lines to minimize the danger of boring a new gas line through them. All states have some regulation in place requiring utilities to locate sewers before they do trenchless pipe installations—most recommending both pre- and post-installation inspections. General contractors are increasingly requiring visual confirmation of the absence of cross bores before taking ownership of construction projects. Simply put, new construction inspection projects help prevent new cross bores.
Legacy cross bore inspections are done to see if cross bore damage has already occurred. Before the late 1990s, the risks associated with cross bores were relatively unknown—therefore, gas line installations were done without safe cross bore mitigation practices. Millions of miles of sewer lines have been potentially intersected with gas lines placed by trenchless methods, which means there are at least thousands of undetected legacy cross bores. These cross bores are not only a ticking time bomb, they can also cause structural damage to the sewer line, leading to I/I and ultimately sinkholes and voids. Legacy cross bores are systematically addressed through inspection and elimination programs. Cross bore inspection contractors have the potential to compete for large projects of thousands of laterals as the industry tries to mitigate legacy cross bore risk.
A growing number of municipalities and gas utilities are implementing cross bore inspection programs to locate and eliminate risky cross bores before a worst case scenario occurs. With this comes a growing need for contractors capable of inspecting sewer laterals. The few contractors who do perform these services are often inundated with large projects and unable to meet the demand. Sewer inspection contractors have the opportunity to leverage their position and, with the right sewer inspection camera and retrofit, take advantage of these lucrative contracts.
Click on the link below to learn more about cross bore prevention programs and the growing market for cross bore inspection services:
Source: http://www.crossboresafety.org/