Utility locating work runs deep in Jake Mason's blood. Now the President of Indiana-based, Mason Private Locating company (MPL), Jake Mason has been surrounded by this type of work since he was a child.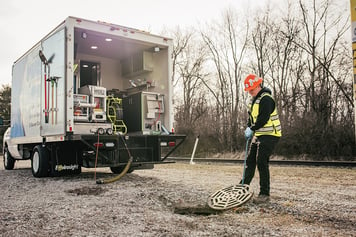 His father, Mark Mason, started private utility locating company, Blood Hound, and owned it for more than 20 years before selling it in fall of 2016. Jake followed in his father's footsteps, working alongside him for years before deciding to venture out on his own.
Mason took a job selling the equipment he had been using for many years—as Envirosight product specialist at Best Equipment Company.
But Mason quickly saw an opportunity to take his experience, knowledge, and the equipment he so heavily advocated for, with him to start something of his own.
"While I was working at Best, I still had a lot of contacts and old customers in the utility world who would call and ask if I could come and do their utility locating or sewer inspections," Mason says. "I kept saying 'No, no I'm out of that world' but it came to the point where too many people were asking and it was too good of an opportunity to pass up. They just needed a reliable and experienced partner like they had in the past."
A New Pursuit
In the fall of 2019, he opened Mason Private Locating—which offers private utility locating, utility mapping, ground penetrating radar, concrete scanning, subsurface utility engineering, vacuum excavation and sewer inspection/cross-bore mitigation services. Several of Mason's family members and former employees from their previous company jumped on board, too.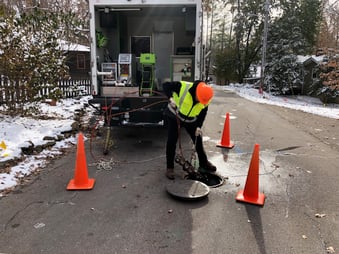 "When starting this company, I knew I had to have Envirosight equipment," Mason says. "We bought one inspection truck with the ROVVER X and SAT system right away, and we have the new SAT II system on the way. At our old company, we had 12 SAT trucks, 8 of which we bought within a year."
The Envirosight camera systems help Mason and his crew more accurately locate utilities in less time, he says.
"To me, the Envirosight products are the best tools on the market," Mason says. "I think Envirosight is state of the art. When you compare them to the other camera systems, and we've demoed all of them, you really want to make sure you're getting the most out of your money."
Meeting a Range of Needs
At Mason Private Locating, the crawlers are used in multiple ways—to locate the sewers and inspect them, to perform lateral launch and for creating reports for customers, Mason says.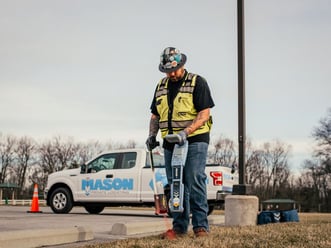 Private utility locating often takes the crews to remote manholes and pipes, so having the ability to easily transfer the camera system to an ATV is a crucial factor, Mason says. The crew is frequently mobilizing the equipment in other ways, too, serving customers across Ohio, Kentucky, Indiana, Illinois, Florida and even farther when requested.
Another standout factor that's kept Mason and his crew loyal to Envirosight is the local service options, he says.
"We're a contractor throughout the midwest so we're always moving. We're not always here in town where we can ship our camera off and wait for it to come back," Mason says. "It's nice for us to have Pat at Best Equipment be our specialist—he knows how to work on the equipment and fix it so we can be back on the road really quickly with very little downtime."
Between limited downtime, and the simplicity in changing the inspection system's setup depending on the project, Mason says the crew is able to maximize productivity wherever they're working.
"I love the ease of use with the equipment," he says. "With the quick-change wheels, if you need to change your setup, it's all toolless. You just use your hands to pop them on and off instead of spending 15 minutes re-setting up your camera every time you need to make a change. That alone, the productivity of it, makes us a lot more efficient on job sites."
Standing Out From Competitors
Mason says there are several factors that make his new company unique to its competitors.
"We are innovative with what we do," he says. "Our big piece is the deliverable. Once we complete a job, what we give to the client at the end is really what separates us from our competitors. They get a map of all of the utilities that we marked on site. If we're doing a camera inspection, they get the PACP report and in-depth observations. They get pictures and a work order detailing all of the things we did on-site, which is stored digitally so our clients can access it at any time and follow-up with questions."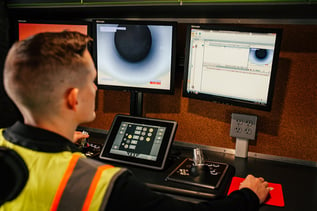 On top of a comprehensive deliverable, Mason says his family-centric crew offers hundreds of years of combined experience in the industry.
"Most of our teammates here have 15-plus years of experience with utility locating," he says. "We have a lot of family here, and we also have a lot of veterans who have worked with us for many years who we consider family. That loyalty transcends to our customers, too. They are our partners in protecting their underground facilities, and we want to make sure we do right by them."
Mason was just 5-years-old when his father realized the need for private utility locating, which introduced him to the world he grew to love.
"Some of the guys that work here with me saw me as a little kid when they were working out of my Dad's garage, so now to be here working with them is pretty cool," he says. "I really enjoy the work—the people and the customers we get to work with, going to new job sites and seeing new places and a different point of view."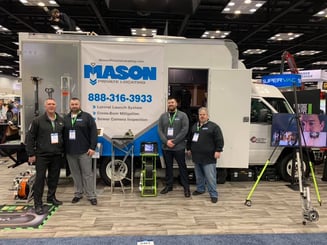 While Mason Private Locating company is just 6-months-old, Mason says the equipment and support from Envirosight has helped the team be productive right out of the gate.
"Throughout the years, Envirosight has been a great partner to us, as I think we have been to them," Mason says. "We love the team approach—being able to partner with each other on some of the projects. And this year at the WWETT show, getting to put our banner up on Envirosight's new SAT II truck was very cool. A solid partnership between MPL and Envirosight is not only great for our brands, but for the industry as a whole. Our combined history, experience and love for protecting underground facilities will continue to move the industry forward."