In recent decades, sewer inspection technology has advanced at a rate like never before.
These advancements can be seen in a number of places, including sewer inspection crawlers. Upgraded equipment designs have not only made the inspection process simpler and safer, but have also resulted in a more detailed and effective understanding of the pipes beneath our feet.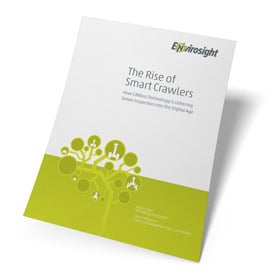 One specific digital technology comes from the automotive industry, where it's been massively successful.
CANbus, or the Controller Area Network bus, is a means for connecting components of a system together so they can communicate directly with one another over a common digital backbone, using a common language. Its use in inspection crawlers has surged in recent years.
This has allowed smart crawlers to adapt to a wider array of inspection challenges, automate common tasks and gather new data. With CANbus, operators gain more control and feedback, and have a safer and more reliable system, among other benefits.
CANbus can communicate complex instructions and a vast range of data over a single pair of conductors, seemingly instantaneously. This gives an operator a much finer degree of control and feedback. Beyond that, the small footprint of a digital serial bus (just two conductors for data) has many cascading benefits for applications like sewer inspection, where the equipment is expected to travel long distances and maneuver nimbly in confined and punishing environments.
Agility and enhanced productivity are just a couple of the benefits of having CANbus technology implemented in your sewer inspection crawler. To learn more about the advantages, and how CANbus technology can bring a sewer crawler up to speed with the rest of your devices, download our white paper: The Rise of Smart Crawlers.