In this day and age, sewer inspection systems can provide us with so much more than video footage. Advanced technologies like laser profiling allow sewer professionals to get deeper insights on pipe qualities like ovality, alignment, capacity and more. The laser profiler attachment for the ROVVER X sewer inspection system makes it easy to capture geometric profiles for these purposes.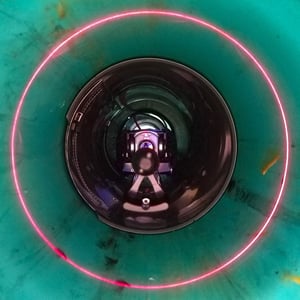 How It Works
Once inside of a buried pipe, the profiler projects a ring of light onto the pipe wall that's recorded by ROVVER's pan/tilt camera. Then, WinCan's laser module tool extracts this profile from the video and trends it over the length of the pipe to build a 3D model.
This model provides detailed measurements of anomalies and information about interior pipe geometry that a CCTV inspection alone cannot offer. These measurements are particularly helpful for planning any necessary pipe repairs and identifying misshapen pipe and other defects with greater accuracy. Data from these 3D models can also be used in conjunction with CCTV inspection data to verify proper pipe installation, determine remaining pipe life, monitor erosion or corrosion, analyze partial collapses, and quantify defects.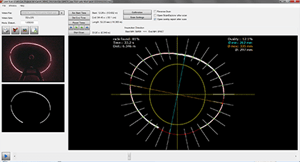 Perfect for pipe 6"-27" in diameter, the attachment relies on only one AA battery for days' worth of use. It's extremely easy to use; simply snap the profiler on to ROVVER's pan/tilt camera head, no tools required.
Get better condition insights and more accurate measurements with the laser profiler for ROVVER X. Schedule a laser profiler demo today.