Utility locating is a necessary service that keeps utilities operational, construction sites efficient, and communities safe. Effective locating requires the cooperation of locators, utilities, diggers (including homeowners, construction crews and contractors), and 811 operators to function correctly.
What Is Utility Locating?
Utility locating is the process of finding and marking utility lines that are buried underground. Utility lines include sewer lines, gas lines, water pipes and telephone cables, among others. Marking utility lines involves using identifiers such as chalk, spray paint, tape or flags to indicate where utilities are buried. The goal of locating services is to ensure safe excavation and public safety by identifying and protecting buried utilities.
How Does the Locating Request Process Work?
In the United States and Canada, utility locating follows a specific process. If you are planning on digging (on private or public property), you need to call 811 or go to your state 811 center's website at least two business days before your project is planned to begin. After requesting locating services for your dig site, you will be connected to a representative who will ask for information about your project. This information includes the type, size and location of your dig site, as well as the estimated time your project will take to complete. You will be asked for this same information regardless of whether you make the request online or over the phone. After providing your details, you will receive a ticket number and information about when the locate will occur.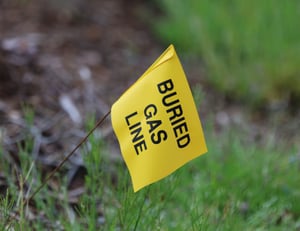 The 811 center will then send your information to its operators, who typically have two business days to locate and mark underground utilities around your dig site. These markings enable you to complete your project safely, without fear of disturbing any nearby buried utilities. You can begin digging once you have confirmed that the locate is complete. Make sure to respect all utility marks throughout your project; Call 811 recommends that you avoid digging on top of or within 18-24" of all marked underground assets.
A Day in the Life of a Utility Locator
When an 811 center gets a new ticket, its first step is to send the ticket to the local utilities that may have assets at the dig site. These utilities either perform their locates in house, meaning that one of their own employees performs the locate, or they partner with a subcontractor who does locates on their behalf. After the appropriate utility locator receives the ticket, they must fit the job into their workload, ensuring that locates are completed by their due date.

The locator then plans a route to include all of their job sites for the day. Depending on the locator's assigned territory, they could have anywhere between 10-50 tickets to complete per day.
Once the locator arrives at the work site, they visually inspect the area for any signs of buried assets. Next, the locator consults their records of existing utilities to get a sense of where they'll be marking. While these records are helpful, they are not infallible; soil erosion and extreme weather can cause utilities to shift over time, and records for older infrastructure may be missing or inaccurate. At this point, the locator can begin using locating tools like ground penetrating radar and cameras with sonde trackers to locate, record and mark any underground assets. The last steps for the locator are to document the work performed and to confirm the job's completion with the 811 center.
Public vs. Private Utility Locating

When discussing the utility locating process, it's important to differentiate between public and private locating. Public utility locating via 811 centers is a free service in the U.S., but 811 centers will only mark public utilities, not privately-owned utilities. Private utility locating contractors are needed to perform locates for all non-public buried assets.
Most larger-scale construction sites include at least one private utility. Private locates are paid services and can cost up to several thousand dollars per dig site and, like public utility locates, they are required by law before digging can commence.
Utility locating laws vary by state, so it's best practice to stay up to date with your local guidelines. Learn about your state's utility locating laws here.
Unsure what those markings on a dig site mean? Our utility locating symbols poster explains common locating colors and marks. Request yours for free today.