In September 2001, Ground Penetrating Radar Systems (GPRS) entered the construction service industry as a concrete scanning specialist. Fast forward 20 years, and this Toledo, OH-based powerhouse is now the country's largest utility locating, concrete scanning, and video pipe inspection company. With a 99.8% accuracy rating on over 250,000 projects, GPRS is well-known in the industry for its commitment to providing safe, comprehensive subsurface solutions.
In 2020, GPRS put together a brand-new video pipe inspection (VPI) team. Andy Jurski, who joined GPRS as a project manager a decade prior, was selected for this crew. As the VPI Project Manager for the Ohio/Michigan area, Jurski has helped the company's pipe inspection division flourish. The original VPI team of 10 has expanded to over 26 members.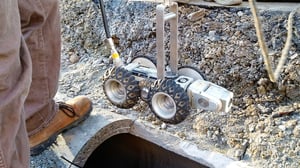 Jurski notes that CCTV inspection is still a relatively new service to the contractor.
"With the nature of GPRS being mostly a utility locating company, some customers don't even know that we offer VPI," he says. "But video inspection is helpful for customers using GPR. With VPI, we can perform pre- and post-inspections that clarify issues before starting jobs and confirm proper installation or cleaning after the fact."
Tools of the Trade
Jurski and the rest of the growing VPI team depend on the ROVVER X sewer inspection crawler system for their CCTV inspections. "ROVVER X has been great," he says. "In two and a half years, we haven't had any problems with the crawler."
ROVVER X's built-in sonde is particularly useful for Jurski's day-to-day inspection jobs, whether he's assessing sewer lines, a compressor station, or anything in between.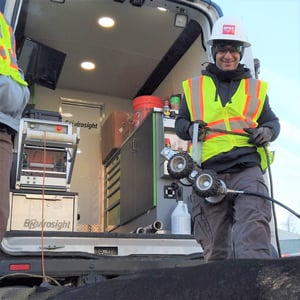 "A lot of our jobs are locating related, so we really rely on the sonde," he explains. "If we find an issue in the line or an offset joint, we're able to tell the customer what it is and where it is."
GPRS is no stranger to unique inspection challenges, and Jurski's had his fair share of them.
"Once, I had a company call me in an emergency. They had had a witch's hat [conical-shaped filter] break apart inside of a compressor station," he recalls. "We got on site and found that the 36-inch gas line had three 90-degree bends in it. ROVVER was able to go through the bends and travel down this line of probably 14 percent pitch. Then, we could see where the contamination started and stopped."
The seasoned operator particularly enjoys the problem-solving aspects of his profession. "The most rewarding part of my job is when you find an issue that no one—including the customer—knew about."
That instinct for problem-solving is what will continue to propel GPRS's growth in the years to come.
Discover what ROVVER X can accomplish for your inspection crew. Request your onsite ROVVER X demo today.