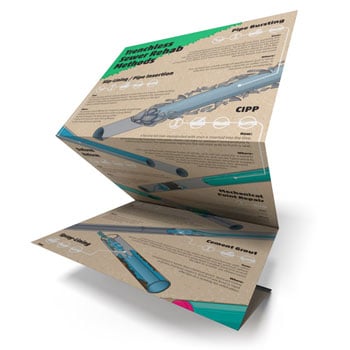 When a sewer fails, the solution is seldom cheap or easy. Digging it up can be particularly costly, as well as disruptive to residential customers and road traffic. To avoid this, methods have emerged allowing sewers to be fixed without excavation. These methods are referred to collectively as "trenchless technologies."
No two sewers pipes are alike. Many differ significantly in terms of size (both diameter and length), pipe material, effluent characteristics, service connections, soil composition and water table. Pipes also fail in different ways: they can crack, leak, settle, erode, corrode and collapse. These failures can be localized, or they can be pervasive. Moreover, the goal of rehabilitation can vary to include:
Restoring structural integrity,

Stopping groundwater infiltration, and/or

Stopping the exfiltration (leakage) of sewage into the environment.
Such a wide range of considerations has spawned an array of trenchless technologies, each suited to a particular set of conditions and challenges.
For newcomers to the sewer industry, the multitude of trenchless technologies can be confusing. Still, making a good choice depends on understanding all the options, including the process, benefits and limitations of each trenchless rehab method. Common methods include:
Pipe Bursting

Slip-Lining

CIPP

Deform/Reform

Mechanical Point Repair

Chemical Grouting

Cement Grout

Spray-Lining

Pipe Reaming

Rerounding
To help sewer professionals gain a basic understanding of these methods, Pipeline Renewal Technologies has created a FREE Trenchless Sewer Rehab Methods poster. This handy reference guide, perfect for office wall or service truck, illustrates each trenchless sewer rehab method and describes its process, benefits and limitations. It offers a quick way to get yourself oriented in the world of sewer rehabilitation. Provide your mailing address and we will send you a FREE copy.